I originally stole this recipe from
101Cookbooks.com
, which is just about the greatest food
blog I've ever seen. I've adde
d some of my own haphazard finds and left out others, which may or may not count towards "creating" a new recipe, but suffice it to say this one's pretty much up for whatever you're into: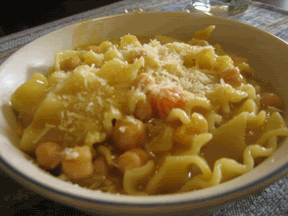 1 cup dried chickpeas
4 cups water
1 shallot
1 clove garlic
pepper + coriander
32 oz. veggie stock
6 oz. noodles
olive oil
Parmesan
cheese
Dried chickpeas tend to work best because they give a better flavor. My mother tried this with canned chickpeas and admitted the flavor was pretty bland. So, start with the dried ones if you don't mind planning ahead.
Soak the
chickpeas
in four cups water overnight, drain, and replace with lightly salted water. Bring to a boil, cover, and simmer for an hour, or until tender. I added the shallot (since unlike onions they'll
dissolve
while cooking and Mint sure does hate her some onions), garlic, both finely chopped, and some ground pepper and coriander during this simmering stage since the water tends to get absorbed and reduce, helping flavor the chickpeas. Or so I imagine.
After an hour, or whenever the water has been absorbed, I added a 32 oz. carton of veggie stock (plus 1 extra cup of water to help the volume--a step you can repeat throughout cooking to keep enough liquid in the mix) and brought back to a boil. I also threw in some carrots because, well, I had them. Reduce heat slightly, and you'll let that simmer for another half-hour or so.
At this point, throw in some noodles. Whatever you like. I used some colored, flat ones last time, which looked interesting, but this time I'm going with some broken
rombi
. And whenever the pasta is cooked (thickening everything up quite nicely) and you've seasoned to taste, like, you're done. It's soup, so you can imagine that this would be good to serve hot. I throw some fresh-grated Parmesan cheese on top with a splash of olive oil. Serves four to six.