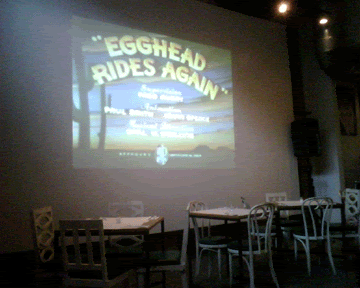 Paloma


60 Greenpoint Avenue
Brooklyn, NY 11222
(718) 349-2400
palomanyc.com

RAISE YOUR HANDS if you love Saturday morning cartoons!

Okay, yes, I know, cartoons kinda suck these days. I enjoy Spongebob as much as the next guy, but Viva Piñata? Yu-Gi-Oh? Ugh, I can barely stomach Futureama, and my 10-year-old cousin recently asked me, "Who's Yogi Bear?" Are you kidding me, Boo Boo!? Hey, hey, I say, what are we teaching these kids today?!

The good news: Paloma understands. Not only can you now find yourself a tasty brunch at the Greenpoint joint, but you can kick back and enjoy it while watching the flickering frames of good, old fashions, hand-animated Looney Tunes.
How the food? My eggs over-medium with a slice of potato pancake was perhaps the simplest plate I have ever seen come out of Paloma's kitchen. The eggs were impeccably cooked. Mint's duck hash piled atop one of those tasty potato-cakes was reportedly awesome. A warm popover, crispy crust outside and buttery soft inside, hit the spot. And, as always, the bar served up a hit, this afternoon mixing up a ginger soda with skewered chunks of candied ginger as garnish.


MIKE EATS NEXT TIME:
Yup, yup.