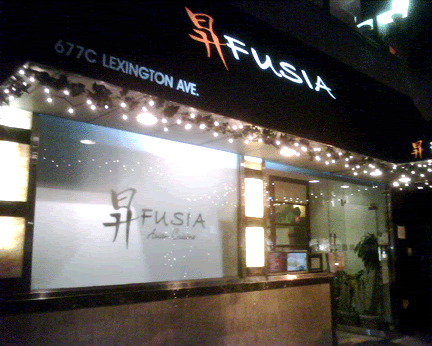 Fusia Asian Cuisine

677 Lexington Avenue

(entrance on 56th St)

New York, NY 10022
(212) 308-2111
fusia56.com


Mint had a toothache. It got worse. Then, it got worse. And so she decided it was time to see a dentist. At 9:15 p.m. on a Monday night. The pickings are slim, let me tell you.
We decided to grab dinner while wandering up towards a dentist's office before her appointment, not sure she'd feel much like food after. Something soft was is order, and since we only had an hour, something quick, too. Noodles were declared the perfect choice and so we started looking. We found Fusia.
And we were impressed. The miso soup was rich without being salty, large slices of shitake mushrooms floating about in the broth. The rice under the unagi don was piled high and dotted with beets, seaweed, and slices of avocado. Mint, of course, ordered noodles. They were soft.
MIKE EATS NEXT TIME:
Prices were a bit high for an everyday dinner, but I'll admit it was the first time I've ordered unagi don outside of Sapporo Haru and thoroughly enjoyed my meal. That's definitely a reason to consider returning.