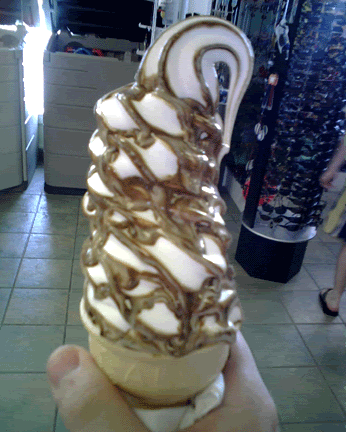 Port City Java


21 N. Front Street
Wilmington, NC 28401

(910) 762-5282

portcityjava.com
South Beach Grill
100 S. Lumina Avenue

Wrightsville Beach, NC 28480

(910) 256-4646

southbeachgrillwb.com
Elijah's
2 Ann Street

Wilmington, NC 27501

(910) 343-1448

elijahs.com
IF ONE OF my favorite culinary truths about New York City is the vast abundance of international and creative vegetarian food to be found here, then one of my favorite parts of traveling south and east to the Atlantic Coast is the buckets and buckets (quite literally) of seafood to be had there. And in a city like Wilmington, whose historic downtown has managed to outlaw franchises, the buckets to be had are mighty, mighty tasty indeed.


We start, however, with a blueberry muffin procured from Port City Java, which sits downstairs, conveniently, in my brother's apartment building, which is oddly enough a former Masonic temple:
Not the most delicious blueberry muffin I've ever had, truth be told, but when you're sitting alongside the Cape Fear sipping iced coffee on a 95-degree Saturday morning eating said blueberry muffin in the company of Mint, mom and brother, its tastes okay. Throw in the view and one doesn't complain:
The day was spent mostly at the beach, which included the ice cream cone (top) and 75-degree water, after which my brother took off for the airport to meet his girlfriend, Elisa, while my mom, Mint and I grabbed a late, light lunch at the nearby South Beach
Grill. Situated at one of the main entrances to Wrightsville Beach, parking can be a frustrating affair, but more enjoyable food within walking distance of the sand is hard to find.


Lunch was wasabi-crusted sea scallops, a 'Seafood Napoleon' of shrimp, fried tomatoes, and crab meat with boursin cheese, and a plate of seafood nachos featuring creamy crab, a few more shrimp and homemade tortilla chips, all shared between the three of us. The creative fare might not be as finely-executed as that in downtown Wilmington, but the ambitious dishes are well-prepared and make most excellent beach fare.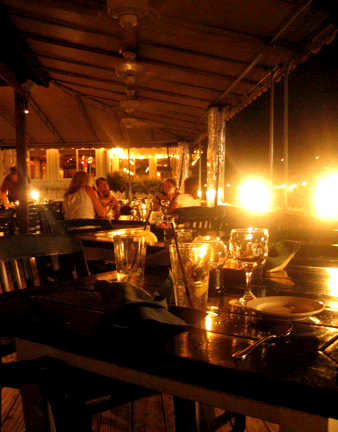 After making the fifteen minute drive back into Wilmington, we took a few hours to relax, clean up, and share a bottle of wine. And then, once again, it was time for food. (I love Wimington!) My mom's recommendation for tonight: Elijah's.


Sitting off the end of Wilmington's riverside boardwalk, where the cobblestones of Ann Street mark the end of the city's main drag, Elijah's sits sprawled out with its triple-terraced patio overlooking the Cape. It's beautiful spot to sit on a summer evening and dig into a bucket of seafood. Literally. "The Carolina Bucket"--crab legs, shrimps, mussels, clams, corn, slices of sausage, and bunches of fresh oysters. Had we known the bucket (below, top left) would be so deep, we might not have also ordered the chef's Grill Plate, a pile of blackened salmon, mahi mahi and skewered shrimp. Suffice it to say there was a lot of food.
Dessert, somehow, was deemed necessary. Apple pie and a chocolate cake were ordered, the latter (above, bottom left) boasting more than a pound of butter and chocolate per slice. The thing was a veritable chocolate truffle, engorged and molded into something resembling a slice of pie so rich and dark it appeared a black hole at our table that we could only hope sucked the calories out of itself. Even more confounding was the Cape Fear coffee my mother ordered (above, bottom right). It looked innocent enough; the Bailey's, Khalua, and amaretto

all

involved begged to differ.


And so began the weekend.