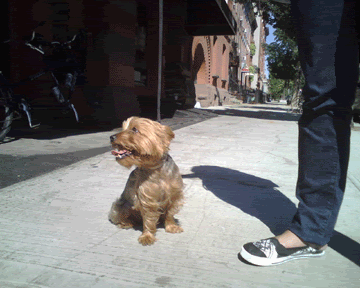 IF FEZZIK'S HAPPY, everybody's happy. And so Roxie and I happily waited for a table on Brooklyn Label's patio, a.k.a Franklin Street, on a gorgeous Saturday afternoon. We didn't have to wait long (the brunch crowd tends to fritter out by, oh, 4 p.m.) and as always the wait was well worth the while. Haven't had a chance to try out BL's new dinner menu yet, but biscuits with veggie gravy were good enough for today.
The real flavor rush was at Barometer, the Chinatown HQ of Anna Studebaker and Jenna Wainwright, where "deathelss bric-a-brac" and "one-of-one" jewelry combine in a most addictive and well-composed gallery setting. Today: The Ice Cream Show, featuring ice cream-themed works by Ms. Anna and Ms. Jenna, as well as artists including one A. Hitchcock. "Good-bye, Sprinkles" is sold, so I've heard, but you can still snap up "Lose Lips a Lifetime on the Hips."

Oh, and did I mention Barometer's rum and ice cream floats? Delicious. And the jalapeno cheddar ice cream? Interesting. Here's hoping for a Hot Chocolate Show this winter!