Burger Joint

118 W. 57th Street,
in Le Parker Meridien Hotel
New York, NY 10019
(212) 245-5000
www.parkermeridien.com


Half the fun of Burger Join is finding it. So, rather than give you a direct link, click above and follow along:
Obviously, first, you'll want to select Le Parker Meridien New York. Next, perched on the left side of the resulting page, immediately below "rooms," find and choose: "eat." Now, three food options are featured when the page refreshes--Norma's, Seppi's, and Room Service; you want none of these. Look a little further to the right where in small, lowercase, gray letters "burgers" is tacked on as an afterthought. There you are, click on that.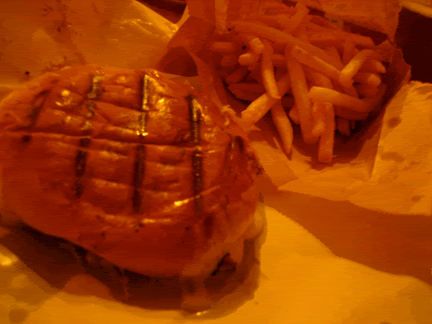 Welcome to the internet home of Burger Joint, as meticulously hidden in plain sight as the real-life burger counter it represents. I could surely give directions to the

real

Burger Joint, but you should do the detective work yourself. Just know it involves a four-star hotel, a curtain, a neon sign, wood paneling, and brownies, in that order.
On one hand, you want to give the hotel property serious credit for fostering and strong-holding such a tradition as honest, cheap eats in a city plagued by puffed up plates and prices; on the other hand, it says something about the city itself (or perhaps just Midtown) that it takes a four-star hotel to keep $6.50 hamburgers in existence. Regardless,
you'll want both of your hands to take care of that burger and fries.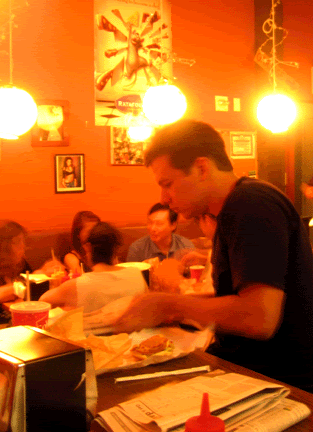 Or, in my case, a gorgeous grilled cheese sandwich--two halves of a toasted bun stuffed with as much cheese as others are gifted greasy, grilled meat. The fries are crisp and salty; the beer is cold and poured in plastic cups ($4.50 draught, $13 pitcher). This is decidedly not a bad way to blow $15 on dinner--cheeseburger, fries and a pint of Sam Adams--unless your considering cholesterol.
This particular Burger outing with Jeanie, Jeff, and Sir Aaron Hitchcock was the result of a spur-of-the-moment suggestion, this inspired mostly by hunger, this the result of almost 120 minutes of food-watching: "Ratatoullie." That computer generated images of food can make one's mouth water and stomach grumble being quite a testament to the film. Indeed, the meticulous visual design of "Ratatoullie" is stunning, but its characters have equal the richness in depth. Easily the best movie I've seen yet this year. Perhaps not the funniest.
Finally, I ducked into the Grand Central Market on my way home, the brightly-lit hall of seafood, spices, fresh-baked bread, fresh-made pasta, fresh-cut meat, and every other type of food you might want in some form or the other. Somehow, it's even reasonably priced. I found a vegetable pot pie ($7.50) with black beans, potatoes, and an awesomely flaky crust. I bought it home, ate half, and saved the rest for lunch tomorrow.

It's true, great food abounds in this city. Some of it is just easier to find.



MIKE EATS NEXT TIME:

Sure, I like grilled cheese sandwiches; stopping into GCM reminded me what good seafood it has--perhaps it's time to make some paella...