I WAS FLIPPING through a cook book recently in search of potential recipes that would showcase some of the now-flourishing basil growing in our kitchen window. No luck on that front. I did come across, however, this favorite one of mine for cinnamon and molasses cookies. The taste is something like a gingerbread cookie, only darker. How-to: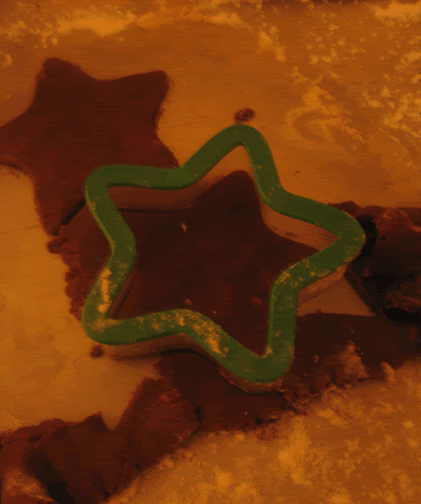 2 tbsp black molasses
4 tbsp butter or margarine
1 cup all-purpose flour
1/4 tsp baking soda
1/2 tsp ground ginger
1 tsp ground cinnamon
1/4 cup light brown sugar
1 tbsp ground almonds
1 egg yolk
1 cup confectioners' sugar


Sift the flour in a large bowl with the baking soda and spices, then stir in sugar and almonds. Heat the molasses with the butter until it just begins to melt. Beat the molasses mixture briskly together with the egg yolk in the bowl with flour and spices, drawing the ingredients together to form a soft dough. Roll out the dough to 1/4-inch think on a floured surface; then cut into shapes. Place cookies on a lightly-greased tray and chill for 15 minutes while oven preheats to 375-degrees. Prick cookies lightly with fork and bake for 12-15 minutes, until just firm. Set on wire rack to cool. To decorate, mix confectioners' sugar with a little lukewarm water, then drizzle over cookies.


The only real tip here is to make sure that the dough isn't too thick when you roll it out--these cookies can burn pretty easily. Fortunately, the dark molasses flavor covers some

occasionally
too-crispy edges. We ate ours with lemon sorbet. I imagine any citrus-flavored sorbet would be great with the tangy cinnamon and ginger.