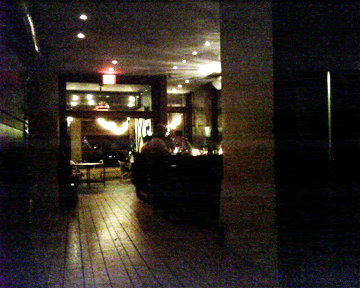 Paloma
60 Greenpoint Avenue
Brooklyn, NY 11222
(718) 349-2400
www.palomanyc.com
IT HAS BEEN brought to my attention by Paloma-skeptic Kevin that the one-half the ownership pair and executive chef of the Brooklyn newcomer, Camille Becerra, was the very first chef to be given the honor of being asked to leave the current season of Top Chef. I suppose as long as pineapple upside-down cake never shows up on the menu, though, the restaurant will be just fine.
And after enjoying a few 2-for-1 specials with Sir Hitchcock, Mint and Roxie at the Soft Spot (an outing assembled quite by chance, if you can call it "chance" to find Roxie at the Soft Spot these days), Mint and I decided to kick off a two-night celebration of the end of her summer semester by enjoying a late-night meal at Paloma followed by one the following night at Relish. It seemed liked a fun idea. Slightly expensive, but fun.
It would also give me a chance to compare two of my favorite north Brooklyn retaurants: Greenpoint's Paloma and Williamsburg's Relish, self-styled "Urban American" and "New American" kitchens respectively. There is certainly a familiar culinary thread that ties the two together, and a few things that many folks believe separate them. That, and both are astoundingly delicious. This was really a win-win plan.
Paloma, which serves dinner nightly until 11:30 p.m. (on Sunday to 10:30), was first in line, as it's far closer to home. Unsurprisingly, at 10:30 on a Tuesday night, there was no wait; our waitress gave us our pick of the half-dozen open tables. (This would, perhaps, be a good point to note that throughout our meal the waitress was excellent. Service at Paloma can sometimes be inattentive, so it's a fair point to praise. It's also one which Kevin will undoubtedly disbelieve.)
Paloma's summer menu was mostly standby favorites--roasted chicken, burgers, Parmesan-crusted tilapia, pesto-seared tuna--which we've had before. There was a selection of cheeses that seemed interesting, but we were hungrier than cheeses. So, we ordered the spicy shrimp and steamed mussels with fries appetizers along with the cod entree, and we agreed to share everything.
A great plan--the shrimp were light, spicy and paired with sweet grilled onions; the mussels arrived swimming in coconut milk and lemongrass with thick wedges of potato to munch on between bites. The cod, at first, disappointed me, only as the fish is forever impressed in my memory as Basque

bacalao

, cooked with rich, roasted red peppers and garlic, a dish I've happily order numerous times along the northern Spanish coast. It took a few bites to warm up to it served with grains and sweet red grapes, tasty but less insisting flavors.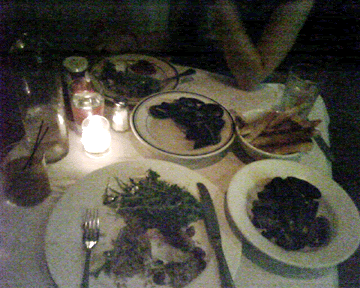 This was all accompanied by a few of Paloma's cocktails, which really are the best you'll find anywhere in the neighborhood, even if the bar, as Kevin points out, is at times fascinatingly slow to make them (you do always seem to wonder

what

could take five minutes when there are only two people at the bar). The space, also, confuses me at times, being so large it seems like it could never feel full.
Aside from the apparently uber-meticulous drink-mixing, the space I've started to come to terms with. As Camille mentions in her interview, Paloma is, at its heart, a neighborhood joint. It is above all accessible. At times it's food staggers between comfort and higher intentions, but the prices are exceedingly reasonable for the quality and consistence of the kitchen, and high tabs are usually a result of over-indulgence rather than overpriced fare.
Staggering only a few blocks to get home is a fair trade too.
MIKE EATS NEXT TIME:

Tomorrow: Relish.