THIS FANTASTIC RECIPE was lovingly stolen from 101cookbooks.com, a great resource for finding a quick how-to for a dish that's guaranteed delicious. Of course, you'll come across plenty on the site that are mind-numbingly labor-intensive. I skip those. Instead, if I'm looking for a last-minute dish, I try to find something with a manageable list of ingredients and simple enough instructions. Like these tangy Black Pepper and Lime Oven Fries: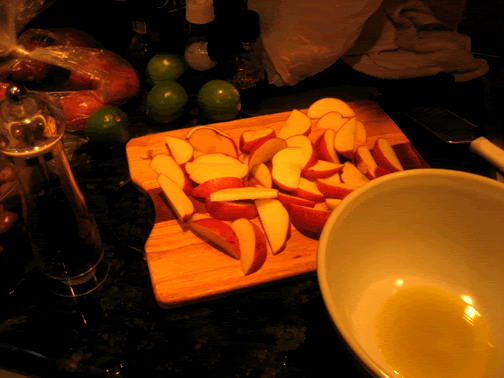 1 1/2 pounds small potatoes
3 tbsp extra virgin olive oil
sea salt
freshly ground pepper
1 lime
1/3 cup Parmesan cheese


Toss small potato wedges with olive oil in large bowl with a few big pinches of salt and some pepper. Arrange the potatoes cut side down on a baking sheet and bake in oven at 375-degrees for 30-35 minutes; toss with spatula halfway through. While potatoes are baking, zest the lime and slice into wedges; grate the Parmesan cheese. When the potato wedges are cooked through, remove from the oven, taste, adjust seasoning (with plenty of pepper), and serve in bowl dusted with lime zest, cheese, and drizzled with lime juice.