Relish
225 Wythe Avenue
Brooklyn, NY 11211
(718) 963-4546
www.relish.com

DEAR KEVIN,
If you think winnin

g the attention of your server at Paloma is tough, you should have been with us tonight at Relish! We felt bad for her after a while. Not really because she was so busy with tables, but after disappearing over and over for such incredible lengths of time we had to assume somet

hing just awful was happening. She was quite polite and apologetic about it, of course, and honestly rather agreeable when it was all said and done and paid for.
Anyhow--weather is fine, wish you were here,
As was mentioned in yesterday's Paloma vs. Relish, Part I
, Kevin is not such a fan of Paloma. Aside from "trivial" aspects like attentiveness and quickness, he also holds that Relish's
food is simply just better, a point on which I've never much wanted to challenge him. It's been a while, granted, since I've had dinner at the Williamsburg stalwart, but my memories of its dinner menu are overwhelmingly delicious. So, last night, Mint and I decided to put the pair to the test, mostly to enjoy two nights of good food, but I was also hoping to better distinguish the duo in my mind.
Of course, I got lost, as always, trying to find Relish (Wythe and N. 3rd, for the record), which sits in the shadows of more half-built luxury loft condos than you've ever known existed. At least, this is the scenery you enjoy walking down Berry Street from Greenpoint; those who walk out Metropolitan from Bedford Avenue are spared the disorienting ghosts of Williamsburg's gluttonous gentrification.
But there sits the shimmering stainless steel diner! At once inviting and promising of comfort, Relish is hardly imaginable inside another shell. And, in summertime, it's hardly imaginable a finer place exists in the 11211 zip code to sit outside on a warm evening and enjoy a late dinner.
Relish's summer menu follows suit, offering all its favorites--burgers, seared tuna, chicken salad--and a handful of lighter, tempting pastas. Mint chose Relish's burger and fries, also requesting an order of calamari; I ordered flounder, blackened, accompanied by a pile of saffron rice.


The calamari was torn between being soft or firm, not a tremendously enviable texture, but the

fra diavolo

sauce served with it was rich, spicy with poblano pepper, sweet with fresh chopped basil. The sauce saved the dish, to be honest.
On her burger, Mint commented, "it tastes like steak," which I assumed to be a good thing (vegetarians can never be too sure), but, while tasty, her thin-cut fries were hardly the
hulking potato wedges Paloma served up with our mussels last night. The "steak"-burger
saved the dish. My flounder was all-around excellent, though, a large portion of spicy, crispy
fish served atop a savory saffron risotto, a sweet lemon sauce drizzled around the plate. No complaints.
We gave in to dessert (and cocktails which were far too sweet for my taste), ordering a "lemonade cake" layered with blueberries. Thick, warm, simple, sweet, tart--delicious.
At the end of these two days and as many excellent meals, a few things stood out: our tab at Paloma was half of our tab at Relish

(note: with two extra drinks and a dessert included at Relish)

; the service at Paloma was excellent, but far too oddly erratic at Relish to form any fair opinion by comparison; and the atmosphere of each remains integrally distinctive.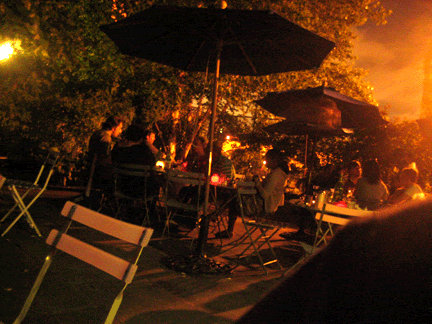 At Paloma, you come and go, one of many, feeling perhaps bit lost under its large white walls, or stranded afloat on an oversized booth. Nevertheless, you are connected by the dining experience, if on your own terms. At Relish, you are stolen inside and hidden in a booth or within its walled garden, instantly put at ease by a familiar atmosphere. You submit to the experience.
The question really isn't which is better, but which you are in the mood for. If you want a slightly showy (slightly more pricey) and assuredly good down-home dinner, then the scene at Williamsburg's Relish is right for you. If you want a spot that leaves you be, that offers you comfort but challenges you, a sometimes imperfect but ever-evolving blank slate, then Greenpoint and Paloma are a far better pair.
To be sure, Paloma and Relish make a good pair themselves, embodying the intricate histories of their respective neighborhoods via "Urban" or "New" or whatever take on American cuisine you might desire.
MIKE EATS NEXT TIME:

At both, surely. And that was fun. Methinks a Queen's Hideaway vs. Diner post might be in order...