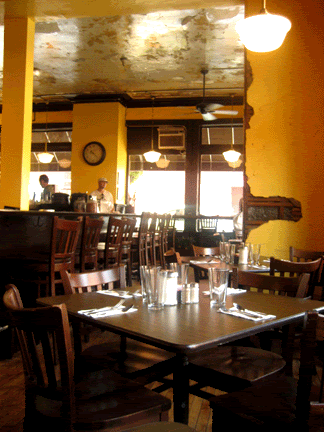 Brooklyn Label

180 Franklin Street
Brooklyn, NY 11222
(718) 389-2806
www.brooklynlabel.com


Ollie's

1991 Broadway
New York, NY 10023
(212) 595-8181


TIME FOR CONFESSION: it's true, yes, that I arrived at work a little before 11:00 a.m. today on account of breakfast. I'm sorry? Well, no, I'm not at all, really--it was damn delicious.
Mint's work schedule usually grants her either Saturday or Sunday off-work, though this week the schedule Gods (Mitch and Nick, admittedly, not being names normally befitting of deities) conspired to give her neither, offering Tuesday in trade. So, with the prospect of having no free time together for the rest of the week, I decided that I was in absolutely no hurry to get to work myself. Breakfast at Brooklyn Label was in order.
Not surprisingly, the normally- packed weekend brunch spot was nearly empty at 9:00 on a weekday morning, save for a trickling crowd of coffee counter customers grabbing morning cups to-go. We grabbed a table in the corner and the service was, needless to say, quite attentive. The kitchen, too, was in its prime, being frequently subdued in both quickness and quality on a busy Sunday morning. Mint's eggs were a perfect accomplishment of over-medium, and mine, soft-scrambled with tomato, basil and aged cheddar, showcased all of their flavors with notable perfection. We were also happily offered home fries, made at the whim of the kitchen, not normally residing on the menu, which were deliciously just too crisp and served with BL's house label "Chef's Revenge" ketchup and hot sauces.
Oh, so delicious--just be careful if you bring one home...
Fast-forward eight hours.
After meeting up post-work with Mint and killing a few hours with Steph (drinking, wrapping gifts for Kat, and playing Photohunt at Dive 75, then drinking and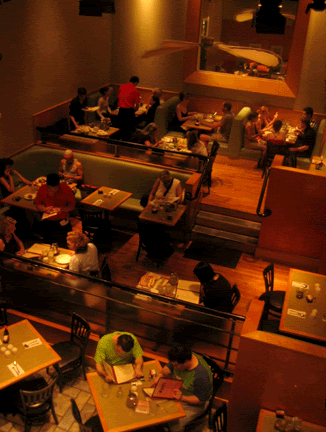 grabbing a snack at City Grill's bar) we continued wandering south through the Upper West
Side, down
to meet Kat & Co. at Ollie's Noodle Shop just above Lincoln Center for dinner and birthday
festivities.
Now, Ollie's is many things to many people; sitting smack across the street from the Sony Lincoln Square movie theater it's a go-to spot for pre-movie munchies. Blessed with unusually large amounts of space for little more than a glorified Chinese takeout joint
(including a covered public atrium with tables for those who want to forgo formalities and order from the counter)
, it's one of the few cheap places in this city large enough to house a dozen people at one table:
The St. Marks kids are alright; the tofu has been better
The food is what you expect, rarely much more--the lo mein is competent, the red bean buns steaming and stuffed with, yes, red bean paste,
the scallion pancakes somewhat larger than elsewhere
. The "sizzling" tofu platter managed to disappoint by being bland and not at all sizzling. The service is usually poor; tonight, a
mal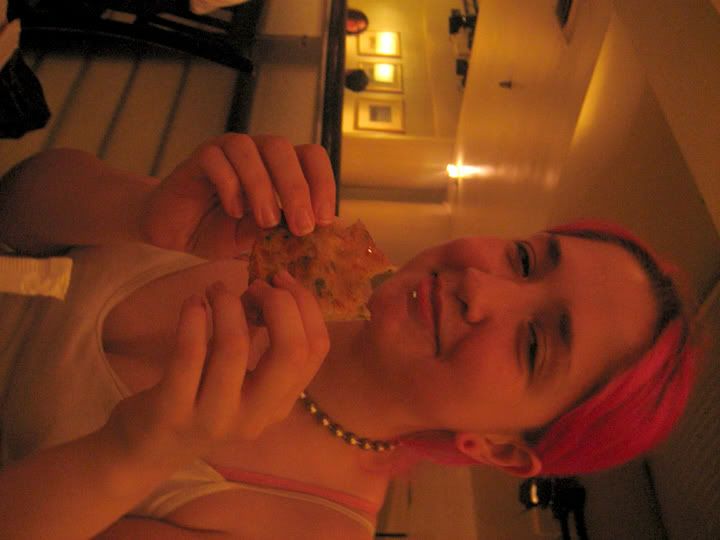 e waiter stalked our table as we pieced together the check. I ca
nnot express how
much I dislike that type of treatment.
But the service and the food is a footnote to Kat's birthday, her twenty-first, and an opportunity for Mint to buy her a 22-ounce can of Sapporo along with assorted Hello Kitty trinkets and a bottle of glucosamine (hey, everyone knows that arthritis really kicks in
at twenty-one
). And anytime a double-digited number of friends show up to celebrate your birthday, it's bound to be good time.
MIKE EATS NEXT TIME:

Brooklyn Label should (finally) be announcing its new summer/debut dinner menu soon; you're better off grabbing take-out and sitting in the "outdoor" atrium rather than braving Ollie's similarly backwards idea of "service."