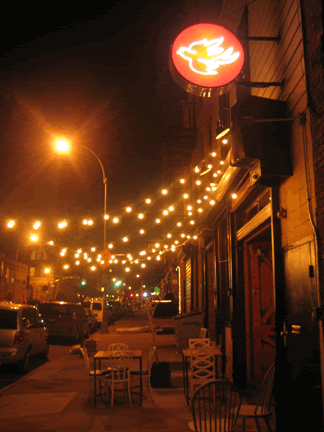 Paloma

60 Greenpoint Avenue
Brooklyn, NY 11222
718-349-2400
www.palomanyc.com

A HANDFUL OF newcomers are etching a whole new culinary face on the Greenpoint scene. Of note, Lamb & Jaffy, Brooklyn Label, and the excellent Queen's Hideaway are just a few, but leading the pack is Paloma. This haven of "urban American cuisine" is a blank canvas for its patrons, equal parts classy, communal, and striving for the creative.

Paloma's allure is its food, though it's simple menu seems unlikely to draw crowds down to the Greenpoint waterfront. Indeed, word of mouth does the trick and the crowds do come. They swing open Paloma's large wooden gate to find a sleek and sparsely-decorated interior, turntables assembled even before the first tables, and ultimately some of the most accessible food on this side of the East River. Imagine the comfort of Williamsburg's Relish relieved of its diner kitsch.



The prices are manageable, the dishes extraordinary. The menu changes seasonally (expect a Summer menu soon), with both inventive highlights like Coriander Pesto Seared Tuna Salad and Parmesan Crusted Tilapia (both $14) and classics like Roasted Chicken with Potato Pancake ($12) or juicy Strip Steak and Fries ($19). My personal favorite, however, remains the Hominy Stew with Roasted Spaghetti Squash ($11), cooked so perfectly tender the tiny bits of hominy and squash might be confused for pasta.

The wine menu is decent, with five or six selections each of red and
white wines, but the cocktails are worth a trip alone. House-infused vodkas lend a special flavor to almost all of them, standouts being the Vanilla Old Fashioned (made with a vanilla-infused 12-year bourbon), Pomegranate Gin Fizz, and Mac's Cosmo (featuring lime-infused 42 Below vodka). These are elegant cocktails that taste as good as they sound, and don't sound ridiculous when you order them.

Be sure the try the Chamomile Tres Leches (when it's not sold out), a thick, sweet pound cake soaked in a light chamomile-infused cream. One of the best desserts I've ever had.

It would be great to see more acts performing live, but with old Spanish flicks and Westerns playing on Paloma's great white wall, there's always something to keep you entertained aside from the food.



MIKE EATS NEXT TIME:

As soon as he hears about a Summer menu.