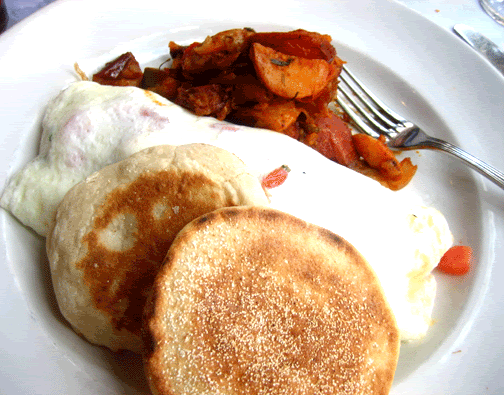 The City Grill
269 Columbus Avenue
New York, NY 10023
(212) 873-9400
thecitygrillnyc.com
Empire
2642 Broadway
New York, NY 10025
(212) 663-6004
ANOTHER DAY, ANOTHER brunch, another Street Fair.
My mom and I wove our ways through the sea of white tents and tube socks towards the promise of The City Grill and another brunch of bellinis and Bloody Marys. We were again rewarded for our efforts. And it was a reprise of smoked salmon as well, this time wrapped in egg whites with chives and cream cheese. Filling, similarly priced, but far from the nearly flawless display of egg excellence at Serafina.
We then spent our afternoon wandering the halls of the American Museum of Natural History. The Museum's featured exhibit of the moment, Mythic Creatures: Dragons, Unicorns & Mermaids, was a sprawling survey of tall tales from the around the globe, the buzzkill of debunking tempered by a kind spinning of the stories into accepted traditions. And, of course, we didn't miss the dinosaurs, meteors or every schoolchild's dream: exquisitely crafted agricultural dioramas.


Mint and her Dad joined us a little later and a little further uptown for dinner at Empire. The Chinese-Japanese joint serves all the standard fare you'd expect at such a spot, perhaps with just a bit more panache, and an array of vegetarian mock-meat dishes. The home style bean curd is worth trying, and the salt and pepper shrimp is light and perfectly peppery. The service is generally miserable.
Of course, no visit to the Upper West Side would be complete without a Steph sighting, so we swung by Dive 75 for a few drink with Steph and a round of her favorite game, Apple to Apples. A lot of days end with drinks and good times, but this City reminds you it's okay to start with them too.