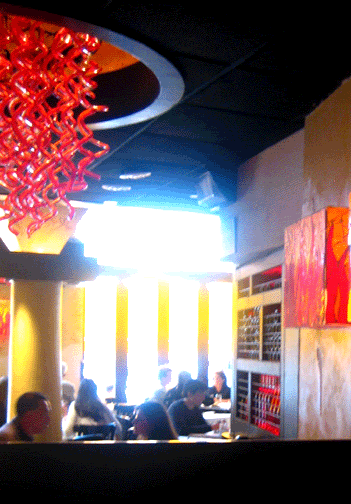 Serafina

210 W. 55th Street
New York, NY 10019
(212) 315-1700
serafinarestaurant.com


Bello Giardino

71 W. 71st Street
New York, NY 10023
(212) 875-1512
bellogiardino.com
MOM'S FLIGHT LANDED in Queens around 10:00 a.m., by 11:00 she was in Brooklyn, and by 1:00 p.m. we were in Manhattan sitting at the Dream Hotel's glittery Serafina restaurant, perusing the brunch menu. The whirlwind was calmed by the brunch-included Bloody Marys. And the Salmon Benedict was pretty alright too--perfectly poached clouds of egg whites and running yolk piled atop smoked salmon.
Brunch at Serafina, aside from being delicious, is just a short walk down Broadway to a matinee, which was our plan for the afternoon. Kathy and Frank came down from
Connecticut
for the occasion, and we were joined by a few of my ma's
YSU
cohorts who flew out for
Wicked
and the weekend. Afterwards, we wandered around a nearby
Street Fair
before taking the subway uptown to the excellent Bello Giardino.
The hole-in-the-wall Italian join was packed this time around, and our "just in case" phone call a few hours before to make dinner reservations for seven in the garden proved prophetic. Bello Giardino's informal atmosphere rightly attracts diners reveling in its superbly fresh pastas; my tri-color gnocchi with shitake mushrooms and goat cheese was a wonderful take on the doughy Italian favorite.


MIKE EATS NEXT TIME:
Serafina is an enjoyably showy spot to take visiting friends; Bello Giardino is fast becoming a favorite.