THE ORIGINAL RECIPE called for artichokes, but Mint does not eat artichokes. So, spinach it is! No complaint here. Please do buy the spinach fresh, though, and blanch it in some boiling water rather than resorting to the canned stuff if at all possible. These make a quirky dinner and (being delicious and very portable cold) a pretty good breakfast too. Also, this was my first attempt both making crepes and cooking with leeks--I look forward to doing both again. You will want to assemble:

1 cup all-purpose flour
1 1/4 cup milk
1 egg
Pinch of Salt
Vegetable oil
1-2 cups cooked spinach
1 large leek
1/4 cup margarine
2 tbsp flour
2 tablespoons milk
5 oz. goat cheese
2 eggs, separated
Nutmeg + Salt + Black Pepper


First, the crepes:

Blend flour, milk, egg, and salt in a food processor or blender (if you do not have such a machine, whisk very, very well by hand--the batter should be quite runny). Brush a medium-sized frying pan with a thin layer of vegetable oil and bring to medium-high heat. Drop less than 1/4 cup of batter into pan with one hand; with free hand, quickly swirl batter around to coat the pan as thinly as possible. Cook both sides briefly to light brown. Set aside under a moist, clean towel and keep warm.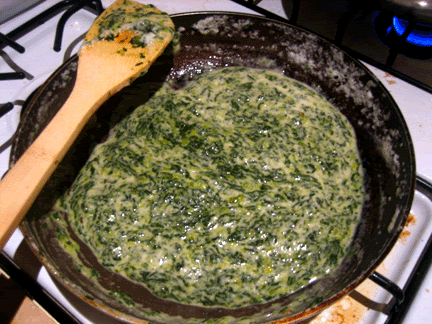 For the filling:

If you buy fresh spinach, blanch the leaves by dropping them into a pot with a few inches of boiling water and simmer until just tender. Drain well, chop. Then, cook spinach with thinly sliced leek in butter over low heat for approximately 12 minutes. Mash with the back of a spoon and season well. Stir in flour and cook for one minute. Remove from heat and add milk, cheese and nutmeg. Cool and add egg yolks. In stainless steel bowl, whisk egg whites until they form soft peaks and carefully fold into spinach mixture.

Fold crepes in half twice and spoon spinach mixture into crepe pocket. Set filled crepes into lightly greased baking dish and bake for about 15 minutes in oven at 375-degrees. Serve hot.