SWEET AND SPICY, these fried yam fritters are a delicious side dish or appetizer. Add some crushed red pepper or a few extra chilies if you want more than a hint of hotness. And be sure to let the batter cool quite a bit before attempting to form into small patties with your hands--the mixture will be very soft. You'll need the following:
4 medium yams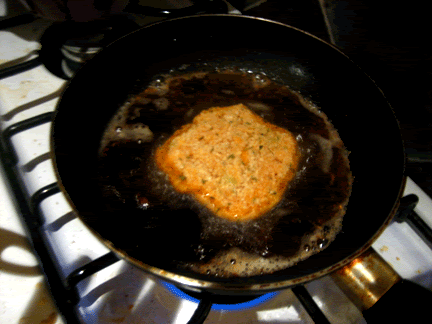 2 eggs
1 tomato, chopped
3 tbsp scallions, chopped
2 green chilies, chopped
1 shallot, chopped
Milk
Salt + Pepper
Garlic Powder
Bread Crumbs
Flour
Vegetable Oil
Peel yams and cut into chunks. Boil in salted water for 20-30 minutes until tender. Drain and mash with a small amount of milk and two tablespoons of beaten eggs. Add tomato, scallions, chilies, and shallot. Season well, mix thoroughly. With well-floured hands, form mixture into small round fritters. Dip fritter entirely in beaten eggs and coat with bread crumbs. Fry about 4-5 minutes until golden brown.