IT SEEMED APPROPRIATE to break fast with breakfast. Mint was observing Yom Kippur and had not eaten since yesterday at sundown so the choice was hers; a big fan of the crepes we made last week, her choice was no surprise. The filling? Raspberries, blueberries and a little Chambord: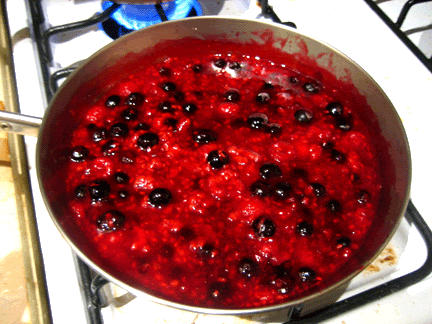 1 1/2 cup raspberries
1 cup blueberries
3 tbsp Chambord liqueur
1/3 cup tangerine juice
1 1/2 tsp water
1 1/2 tsp cornstarch
1 tbsp lemon juice


In a small bowl or measuring cup, mix cornstarch and water. Combine Chambord and juice in saucepan and bring to a simmer. Slowly add cornstarch mixture and mix or whisk well. Allow to simmer for one minute. Add lemon juice and remove from heat. Add berries, mix, and allow to sit while you make the crepes.
Substitute to your heart's content. Orange juice for tangerine juice, blackberries for blueberries, brandy for Chambord--this or that for whatever combination your looking for. Apples, cranberries and brandy would be a good idea; bananas, nuts and amaretto would be tasty too. Oh, the combinations are endless.