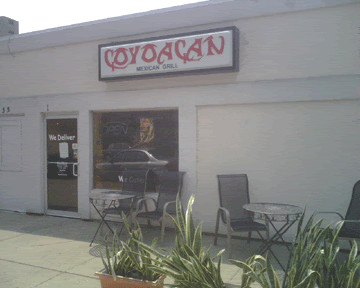 Coyoacan

Mexican Grill
137 Lincoln Avenue
Youngstown, OH 44507

SOMEWHERE, I HAVE a construction paper poster of "fun Ohio facts" as assembled once upon a time by my friend Jane from photos and captions found in a 1970s informational brochure about my home state. It's a stunning portrait of

Midwestern

life well worth the money Jane spent on glue and postage. I'll dig it up and post it here the next time I'm headed to Ohio, even if it's a bit scathing (it was assembled, it should be noted, by someone from a state--

Massachusetts

--that never fails to pass the "what's the first thing you think of if I say..." test with a resounding "pilgrim"). But I digress.

I'm in Ohio. I flew in this morning with my

DayQuil

-muted cold and two suitcases of dirty laundry. Still fairly tired, I'll try to keep this on point: food. While this morning's airport coffee was actually quite good, and this evening's post-graduation gathering in honor of my cousin Joey certainly worth remarking upon, it's this afternoon's lunch at

Coyoacan

on which we'll focus.

We heard about

next door

neighbor University Pizza on my last Ohio trip, and while I did eat at

Coyoacan

on that same stint, I couldn't remember the name of the place to mention it. Bad omen? Maybe.

Coyoacan

is confusing. First, the layout is stupid. The glass-walled order/food assembly area and cashier's counter could not possibly be more awkwardly arranged; the cashier's spot comes first as you walk in, but you actually bypass it and order unceremoniously over a glass wall around the corner, retrace your steps towards the entrance to pay, then walk back past the wall and waiting customers to get to the dining room. Secondly, the food is made as mind-numbingly slow as it is painfully overwrought to order (the menu is listed on the wall behind the cashier... around the corner from where you actually order). But that's not the confusing part.

The confusing part is that the food is really good. You wouldn't suspect it from the seemingly mundane piles of beans and toppings, or from the perpetually confused way in which the staff goes about preparing your order. It's no four-star cuisine, but the soft flour tacos are appropriately chewy, the toppings and guacamole countering by being

surprisingly

fresh and crunchy, and when the salty beans and sweet cheese mix it up with the spicy salsas, you're quite happy you came. It's a quick lunch, if you don't mind spending 20 minutes figuring out how to order.



MIKE EATS NEXT TIME:

He's got a hankering for

Tex

-

Mex

in Youngstown. And time. And

patience

.