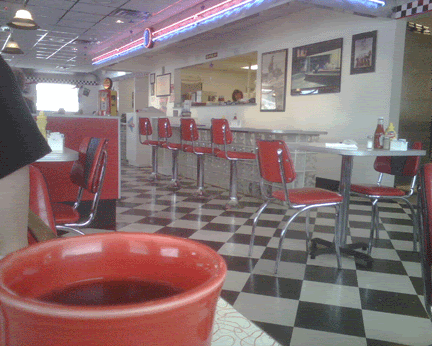 Mary's Diner


666 Main Street (Rt. 20)
Geneva, OH 44041
(440) 466-6393

THIS MUST BE, without question, one of the finest trips I've ever made home, considering only food consumed, and

excluding

, of course, my grandmother and her homemade meatballs (may they both rest in peace). It's been a good trip for eating, and this fine Sunday afternoon we added Mary's Diner in Geneva to our growing list of good eats.

For a recent renovation, Mary's pulls of the period-appointed look better than most. The floor is checkered, ceiling as shiny as the exterior, coffee hot, service warm, and neon glowing all around. The food is cheap, too. My grandfather and I both ordered the banana nut pancakes ($3.99) and my ma chose an

omelet

($5.99). I also ordered a side of mac n' cheese (um, because it was on the menu), which prompted our waitress to rightfully remark, "That's an odd combination." I agreed with her and promised to keep them separate on my plate.


The mac n' cheese turned up glowing all sorts of orange. On seeing this I immediately suspected American cheese was involved, and on tasting this was confirmed. A bit abrasive, I'll admit, for mac n' cheese, but still enjoyable. The pancakes, on the contrary, were entirely supurb. Rather than mixing the banana-nut combo into the batter, a warm compote of crushed peanuts and walnuts was mixed with maple syrup, topped with bananas, and delivered on the side to be poured over our pancakes.

Incredible. The abundance of peanuts gave a saltier, more savory flavor to the pancakes than the more commonly used (and sweeter) pecan-walnut pairing, and in mixing them with warm syrup inspired me to repeat this simple improvement at home. As long as you keep your pancakes apart from your mac n' cheese, you can't go wrong.



I should also mention here the dessert my mom and I assembled last night and finally stuck in the oven this afternoon: a pear-raspeberry tart that turns out more like a pie and is remarkably simple to assemble from scratch. Recipe forthcoming. For now, enjoy the pictures: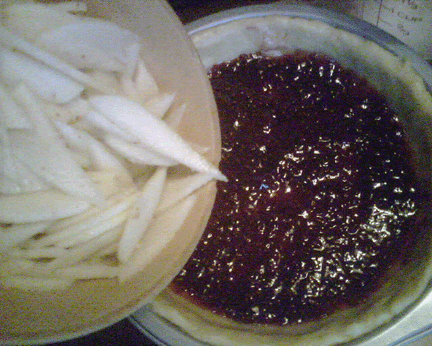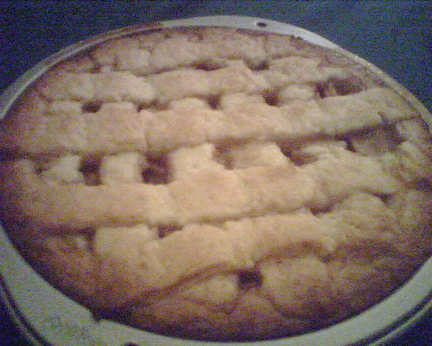 MIKE EATS NEXT TIME:

Why not; he'll prolly make the tart some coming weekend, too.