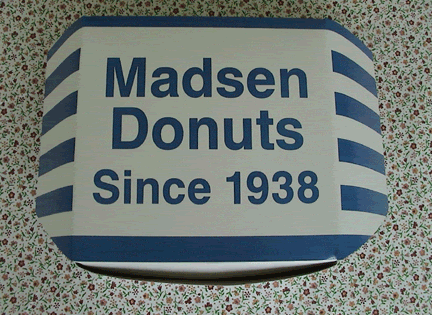 Madsen

Donuts
5426 Lake Road East
Geneva-On-The-Lake, OH 44041
(440) 466-5884

MY DOUGHNUT LOVE runs deep and at

Madsen

is where it begins. I have few fonder childhood memories than waking up over July 4

th

weekend, wandering downstairs and out to the front porch to find family members gathered about boxes of

doughnuts

. Thinking about it now, there may have been twice the number of doughnuts sitting on the table than family sitting around it. Given the size of my family, that's a rather remarkable accomplishment.


There's always room for doughnuts

We've discussed my love for doughnuts before, specifically regarding a variety found here in

Greenpoint

. Nothing, however, competes with the creme sticks found at

Madsen

--the

unbelievably

chocolaty

frosting, the light marshmallow filling, the spongy fried dough--for which hungry Madsen's customers line up daily, stretching out the screen door of the 70-year-old establishment. The jelly-filled, sugar-covered sticks are my personal favorite, with a jelly filling that tastes like jam rather than fake fruit; the almost-crispy cinnamon sticks get snapped up just as quick. And, all day, tray after tray, Madsen sets out a stready stream of freshly-made doughnuts to replenish those bought as quickly as patrons can carry them away. It's positively ritualistic.

Which is why here, in Geneva-On-The-Lake, doughnuts are served with every meal, and sometimes in-between. Eat up.



MIKE EATS NEXT TIME:

He probably already did.