I'VE BEEN WORKING full-time for the last week, which is the first time I've done that in some time. It's worth noting here because it's also the first time I've done so since starting this here blog back in February. It's made the "daily" presence here harder to keep up with, that's for sure (as I write and back-post this five days after the fact), but it's all part of the learning curve, I suppose. On with the game: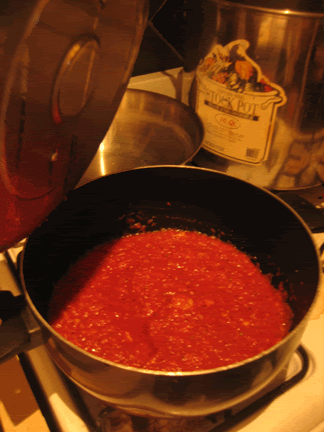 Retuning home in need of a good, hearty meal, my mind
immediately went to pasta. I swung by The Garden (certainly the topic of a future Mike Eats Greenpoint!) and picked up some veggies for the side... and a can of Sclafani crushed tomatoes. That can only mean one thing: Giacchino's World-Famous Recipe Red Sauce!

Even without the fresh basil (my little guys are growing strong but not near ready for harvest) this turned out okay. A little more bitter bite on account of the dried basil and oregano, but that's okay when I'm tossing in extra shallots and both black and red pepper--spicy is good. To go with this, I also sauteed zucchini in a little butter with a chopped tomato thrown in just long enough for it to heat up. Delicious. Quick, easy, and very cheep. Add some bread, some leftover cheese lasagna (I had to finish off the leftovers), and some fish sticks Mint decided she really needed to have, and you've got dinner.



The kind of dinner that reminds me why I've been doing all this.