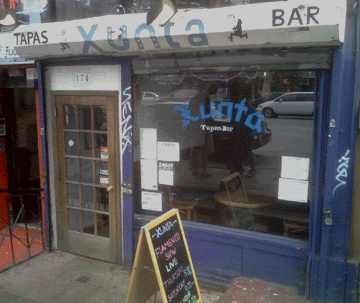 Xunta

174 First Avenue
New York, NY 10009
(212) 614-0620

BEFORE REACHING XUNTA, Aaron and I chanced across our first Street Fair of the season while crossing Second Avenue en route from the Strand to Spanish football. It was an oddly empty, quiet four lanes of pavement that first gave us pause. Then, we saw it off in the distance, a highway of white-topped tents and colorful signs buzzing with the movement of a crowd. Our priorities shifted. We turned north and crossed 14th Street, wandering into a world of $2 socks and corn on the cob. Nothing brings together discount clothing and streetside cuisine quite like Street Fair
, a staple of summer in New York City
.

Falafal was an immediate draw, as were bonsai trees, but my sights were set on "$1 Thai Food," my own personal Holy Grail of Street Fair foods, significantly easier to find than the elusive Biblical treasure, slightly less delicious once found, but certainly cheaper in the long run. We found it soon enough. After few minutes spent eduring the equivocations of an elderly couple, Aaron and I snuck of to a nearby park, Thai food and iced lemonades in hand.
While the actual costs of our combo and veggie pad thai were $5 and $3, respectively (only a single spring roll actually costs $1), it's still quite a deal--food as filling as you could hope for, with all the flavor of food made on the street, and just a few bucks needed to enjoy it! Be sure to keep your eyes open this summer when wandering in the City on the weekends.

Up next, Xunta is a dimly lit, unsuspecting tapas bar often overlooked in the East Village. Unlike many a trendy tapas newcomer, Xunta is entirely unpretentious, surely costing itself many a new customer for its insistance on keeping with tradition. Erratic hours don't help it either. But on any evening you find it open, you won't find Spanish tapas served with any more authenticity than you will at Xunta.
You'll also find Spanish football on Xunta's televisions, which is a surprsingly rare find in Manhattan (one can only stand so long to watch a match in the dirty, black box that is Nevada Smiths). Aaron and I arrived at Xunta in time to catch the second half of Real Madrid-Zaragoza, the toughest of the remaining games for any of La Liga's title contenders--Real, Barcelona, and Sevilla.

No tapas for us on this trip, but plenty of sangria was shared, and with Real, Barcelona, and Sevilla all playing at the same time, the pro-Madrid atmosphere was tense. There were cheers as Real pulled even with a tough Zaragoza side, quieting as Real soon feel behind again and Xunta learned that Barcelona had taken the lead against Espanyol--a result that would see Real lose its grip on the title headed into the league's final weekend.
(Note: the holding company that owns the rights to broadcast Spanish football keeps forcing down clips posted on YouTube from this game. But I'll keep replacing this link as long as I can find one to replace it with.)

At the last possible moment, however, Real's striker pulled Madrid even at 2-2, still a meloncholy result, but a thrilling one as just 18 seconds later Espanyol drew a last-gasp goal at Barca. As Sevilla, too, drew in its match, the sandings stood as they did two hours before, and leave Real to play Mallorca next weekend with a chance to wrap up a title. Not too shabby.

As for us, now watching USA play Trinidad and Tobago, we were getting hungry. With Ms. Walker joining for one last pitcher of sangria, our thoughts turned to dinner. The suggestion of a brightly-lit Indian meal was made and accepted. And so we wandered south towards the beckoning lights of Milon.


TO BE CONTINUED!