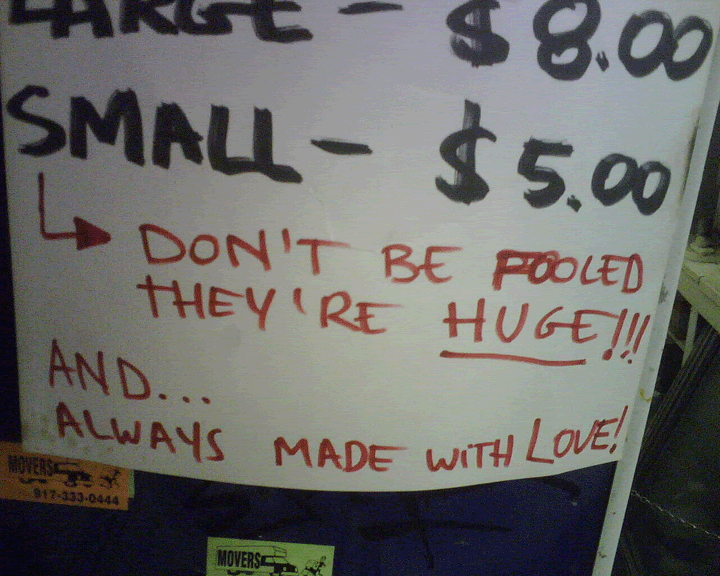 Orololgio

162 Avenue A
New York, NY 10009
212-228-6900

"Ray's Candy Store"
Avenue A, b/t St. Mark's & 7

th

St.
New York,

Ny

10009

THE BEST SURPRISE of any night is Belgian fries. It's not something you plan; it's something that just happens. Like flipping through the pages of an old book and finding a long lost $20 bill, or the casual suggestion from a friend, "hey, let's do

karaoke

!" Belgian fries sneak up behind you on the hiking trail of life and rush out with a great big, happy bear hug you never saw coming. Only, this particular bear hug comes with 20 different flavors of sauce.

We'll get the deep-fried highlight reel soon enough, but we can't let even Belgian fries overshadow a trip, first, to the exceptional

Orologio

.



I try to stay away from "good" Italian food in NYC mostly

because

it's a fine line one walks in attempting to get such a thing. No one really wants four-star pasta. The beauty about good pasta is that it's homemade, it's comfort food, filling, simple, and perfectly

unpretentious

. Why would anyone pay $25 for a bowl of spaghetti? Why should one need to? Steaks and fish aside, Italian food is the great good-food equalizer--not everyone can do it, but anyone can in theory. You just need to find a place that really gets it right.



Orologio

gets its right and the prices are quite reasonable ($9-15), for dishes as simple as house-made pasta

al

pomodoro

to spaghetti tossed with seafood. My black and white

tagliolini

came in its own rich, spicy tomato sauce and was perfectly cooked, thick and soft, as was my friend's

penne

with chicken and artichokes. The only time we thought to complain our server offered before we could even ask, "our house bread is still baking and will be finished soon." Ah, well, perfect then.

This is the second or this time I've

visited

Orologio

, and I've yet to find something to not like about it. It's convenient, delicious, and affordable. Am I missing something?

After some drinking and nostalgia with randomly-met old friends at an odd bar (appropriately enough) named Revival, Mint and I were headed back to Brooklyn when the question was asked:

"Can we get Belgian fries?!"

Um, yes! Yes, we can! And so we wandered back over to Avenue A, hung a right, and kept walking until the brick red letters of "BELGIAN FRIES" were legible on the storefront awning before us. There's no official establishment name printed anywhere outside to speak of, but the consensus is that the store is called Ray's, affectionately known as Ray's Candy Store to East Village locals. Of course, we know it as, the "Can we get Belgian fries?" place.

Now, you know that any establishment with no name selling Belgian fries and egg creams across the street from

Thompkins

Square Park simply must be an establishment boasting an fine-to-outstanding reputation. You would be correct--at 1:00 a.m there was a line out the door consisting of one rather drunk couple and two guys attempting to by fries in exchange for a $10

Metrocard

. You can probably guess who left with fries.

Mint kindly asked for a small ("don't be fooled they're HUGE!") order of fries and opted for ranch dressing, ketchup, and a

splash

of vinegar, all unceremoniously pumped onto our fries by

none other

than Ray himself. It was an honor, a pleasure, and a

privilege

. I then asked for a chocolate milkshake, which was promptly made from milk (kept cold on ice in a red plastic bucket) and mixed with what I can only imagine was chocolate frozen yogurt.



Ray's Belgian fries are just as world-famous as his pizza
Ray is also the leading cause of heart disease and obesity among Mint and I
We paid (with proper legal tender) and headed out into the night with our hot eats and cool treats in search of a cab to take us home. We found one. It had a touch-screen television screen in the backseat. With GPS and

Zagat

reviews. I swear we weren't that drunk--we're not making this up. I have both pictures and leftover Belgian fries in my fridge to prove it.



MIKE EATS NEXT TIME:

And you should too.