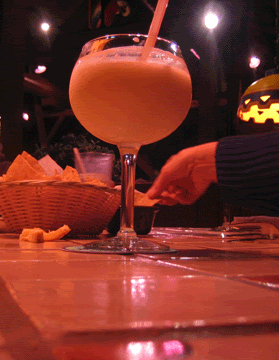 Eat Records


124

Meserole

Avenue
Brooklyn, NY 11222
Official

Myspace

Page



Eat-A-Pita


Grand Central Terminal
New York, NY 10017
212-297-2500
Official Website



Chuck's & Margaritas


1498 Stafford Road
Mansfield, CT 06268
860-429-1900
Official Website

MY COUSIN ADAM is getting confirmed tomorrow (think: Catholic version of a Bar

Mitzvah

, only without the big party or super-long ceremony), so I'm headed up to Connecticut for the weekend. That means errands in the morning, a train in the afternoon, and Connecticut by nightfall. Of course, today's

sustenance

will follow in exactly the same path.

First thing this morning, finding our shelves finally void of the Turkish coffee we discussed a few days ago, I stopped into Eat Records while running errands to grab a cup. I've passed the tiny, hole-in-the-wall record shop/coffee shop/cafe/music venue guided by indie scene beacon Todd P many a time, but I've always kept walking as my caffeine loyalties lie with Cafe Grumpy and

Ashbox

. Used vinyl loyalties? I have none.



The coffee was decent (costing a buck and some change), the records looked old and/or new, and there were a few well- and/or poorly-dressed kids hanging around. Pretty much what I expected. Not much space to sit and use a laptop, though there were

certainly

a few tables available to occupy for such a purpose, so I can imagine the place gets filled up pretty easily on a weekend or whenever

Todd

P is selling

tix

for some impossible to find

Greenpoint

gig. So, Grumpy and

Ashbox

--fear not, this morning's infidelity means nothing. It was just a cup of coffee. I will return to you both soon. Kisses.

Suitcase packed (yes, loaf of banana bread included), I set off for Grand Central in hopes of arriving in time to find a bite to eat before running to my 4:09 train to New Haven. Deciding against dragging my

suitcase

through the always-packed Grand Central Market, I descended instead to the Dining Concourse and found the

falafal

-

tastic

Eat-A-Pita. For $6 (

GCT

is convenient, but not cheap) I had a delicious pita stuffed with

falafal

and much hummus. Not too shabby; a standout among other options.



From New Haven, my uncle Frank and I drove up and through Hartford, arriving to meet my aunts Kathy and Eileen, uncle Tom, and cousins Paul and Adam outside

Ashford

, CT at the triple-level Mexican super-barn, a.k.a. Margaritas. I'll say this much: if you're in eastern
Connecticut and looking for a gigantic Mexican steakhouse, look no
further.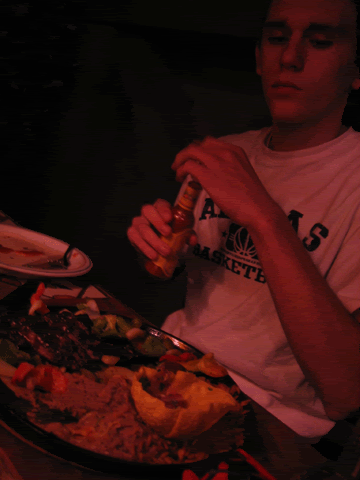 In the past I've enjoyed enchiladas the size of my head. This
time
, I
gave t
he fish tacos a try.
I'll go back to enchiladas next time, or perhaps the plates of sizzling fajitas that my cousins always enjoy, or perhaps the nachos my uncle ordered that showed up the size of a sombrero. All are more satisfactory options. Regardless, don't bother going on a full stomach, don't forget the margaritas, and be sure to get a table in the top-tier hay loft. Because if you haven't eaten Mexican food in the rafters of a barn in the Connecticut woods, you haven't lived.



MIKE EATS NEXT TIME:

Coffee, nah; pita,

yah

; margaritas, you betcha.