AT THIS POINT, pledging my undying love for Brooklyn Label comes as no surprise. We've discussed their brunch, their unbelievably delicious (and dangerous) ketchup, and even dropped a mention of their rich hot cocoa. How about lunch? With Roxie moving back up to the 'Point this week and specifically requesting a new venue for eats, how could I resit a trip to the Label? I couldn't, that's how.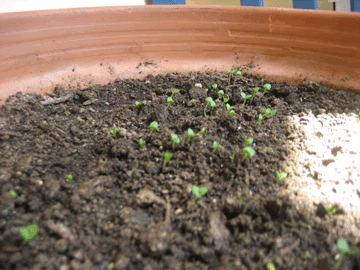 Roxie also plans on snagging a few of my basil plants when I thin them out,
which, as you can see, are currently only wee l'il sprouts
On this trip I finally managed to resist the pull of the breakfast menu, opting instead for a

tempeh

reuben

sandwich. (Ironic, right, one day after declaring

tempeh

sandwiches unworthy of elaboration? Go figure.) The vegan/vegetarian friendly

reuben

rivals even that of Hana Foods, a whole, thick slice of

tempeh

grilled and joined on toasted bread with sauerkraut, sweet dressing, and the tangy touch of Label's house ketchup.
Roxie chose The Egg sandwich, a veritable three-egg spinach

omelet

between slices of Balthazar bread. Throw in an order of onion rings, tomato-basil bisque, and two orders of hot chili-spiced Mayan cocoa and you'll understand why I needed no dinner. I love Brooklyn Label, that's why. In fact, I'm certain I could eat my every breakfast, brunch and lunch there and never get tired of it. As for dinner, methinks a trip to Paloma is in order...