Nevada Smiths
74 Third Avenue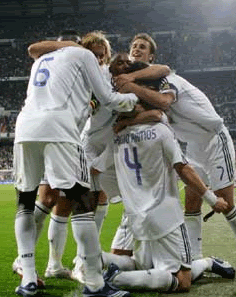 New York, NY
212-982-2591

Official website
Loreley
Biergarten
7

Rivington

Street
New York, NY 10002
212-253-7077
www.loreleynyc.com/
Rice to Riches
37 Spring Street
New York, NY
212-274-0008

www.ricetoriches.com
WHERE TO BEGIN... how about with

Ruud

van

Nistelrooy's

opening goal for Real Madrid in the 17

th

minute of yesterday's match against Valencia?

At that point I was sitting by myself in Nevada Smiths, the black hole of football fervor many New Yorkers know from the curious crowd that gathers outside on Third Avenue attempting to peer through its blackened windows. No, it's not a strip club. But when the place gets "full up" for a game the unlucky are relegated to the sidewalk outside. There they strain to peek in like some sixteen-year-old kid with bad acne and a bad fake ID promising the bouncer his "friends are just inside." Not that it's happened to me.
Anyway, Nevada's shades were drawn yesterday but there was hardly a wait when

Real's

striker put Madrid ahead with a volley turned so quickly to goal the television cameras lost it before it hit the back of the net. It was at precisely this moment that Aaron called. He can attest to this fact because I answered by screaming, "

Goooooooool

!" into the phone.
Sir Aaron, Miss Natasha, and Philly friends Peyton and Elissa joined for the second half of the game, which featured David

Beckham's

return to action in a moment of dramatic revival even Jesus must have envied. The camera tilted slowly up following

Gago's

exit to reveal Madrid's unannounced substitute, (
angels sing
)

Beckham

! The
madridistas
cheered, the Valencia crowd mocked them with chants of "M-L-S!" and

Beckham

responded minutes later by calmly curling a free kick into the Valencia box where Sergio Ramos put the game away for Real.
Did I mention Nevada Smiths serves meat pies (beef, chicken, or curry vegetable) for $3 each? Oh, well, I didn't have one--just whiskey, thanks--but this is a food blog after all, and man cannot live on the glow of David

Beckham

alone. It bears mentioning.


After the game, our crew wandered down to the Lower East Side in search of a place Natasha had just chosen to host her

birthday

gathering in a few weeks:

Loreley

. Seemed a good plan to check it out. We were joined by

Steph

, ordered drinks from the bar, and then told the wait for six to sit in the

biergaten

out back was "nearly impossible." That's all? We'll wait.
Perhaps forty minutes later I w
ent to tell our kind hostess that we would be leaving. Her response: you're table is ready. Oh, is that true? We'll sit.
The menu at

Loreley

is about what you would expect from a

beirgarten

--beer, meat, and potato pancakes--without any of the awe-inspiring open space that make

beirgatens

... well,

gartens

, and not just the backyard of some bar on the Lower East Side. Don't get me wrong, the owners of

Loreley

have done a really wonderful job of opening up every last inch of space they can squeeze out of their

Rivington

& Bowery digs, but in the end its just a taste of the beer garden life you're seeking, not the authentic experience (for that, we recommend the Bohemian Hall in Astoria, Queens.)



It's a good life, though, that's for sure. We ordered rounds of draught

Kolsch

by the tray ($22 for 1.6 liters, or $30 for 2 liters poured into .2 liter glasses, 8 to 10 glasses respectively), Natasha ordered a 1 liter stein of the stuff, and we all proceeded to fill our end of the communal table with burgers ($12), fries ($6), plates of potato

pancakes

with smoked salmon ($14), and cold cuts with cheese and bread ($12). After eating and drinking our fill, our tab had only run to $150 for six of us. Not a small number, but for that much food and drink on a Friday night on the LES, no one was complaining.


Upon leaving

Loreley

we were aimless and about to head our

separate

ways, but not without one final stop. With our friends from Philly having had their interests piqued by word of multi-flavored rice pudding a few blocks away, we headed into Soho and the world of Rice to Riches.
Both

Steph

and Elissa chose Sex, Drugs and Rocky Road while I kept things a little more classic with the Coconut Coma, both

ridiculously

decadent choices. I had heard this stuff was expensive, but $5 for a "solo" serving that could easily have fed two people didn't seem outrageous, the quality was top-notch, and the atmosphere was as indulgent as the flavors. No complaints here. I even have a space-age takeout container with the leftovers in my fridge. Now, when the

aliens

come I know to take them for rice pudding.
MIKE EATS NEXT TIME:
There's a Champions League final; Natasha's birthday; and I'm showing extraterrestrial friends from Mars, Japan, and/or Philly around NYC.


Photos courtesy Marca (top) and Gothamist (bottom)