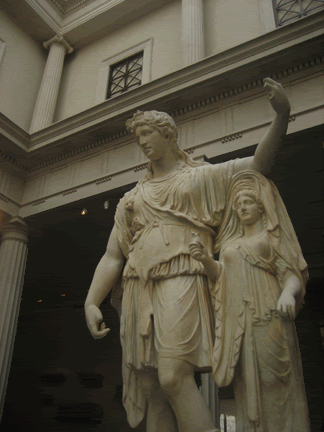 AARON WAS KIND enough this afternoon to offer me and
Steph a quick tour of the Met's
awesome new Greek and Roman galleries. It's quite the space. The main gallery is impressive enough on its own, letting you meander in and about an assortment of ancient works, but so are the galleries surrounding it. They're the perfect excuse for the Met to show off its expansive archives. In fact, my favorite room might have been the least conspicuous one--a side gallery full of glass-enclosed collections of pottery, glass, miniature terracotta figures, and other such assorted ancient goods. It's wonderful to be overwhelmed by art, be it the stuff in the main gallery that's just physically larger than you or a collection so expansive, sprawling, and revealing you fear you could never take it all in.
And there was lunch involved: Pintailes, a pizza joint, which was nothing spectacular, but certainly worth the walk up alongside the park. I can imagine--whether you're visiting the Met, the Guggenheim, or the Cooper-Hewitt--five minutes makes all the difference if you're looking to ditch the crowds for a bit and score some lunch.
You'll find creative thin-crust creations at Pintailes, but you're better off grabbing it to go and searching for a seat in the park nearby--seating is limited on premises. We grabbed a couple slices each (plus a bottle of water or pop, $5.50-$6.50) and chowed down on a bench outside.
Fast-forward six hours and five comics later. Mint and I finished up another fine set of Monday Night Comedy at Pete's Candy Store and set off in search of our favorite Monday night feast: Sapporo Haru. Again, after promising a while back tales of server insanity we've failed to deliver, opting instead for our sushi delivered or, as we did tonight, take-out. So, I'll leave you with more pics of Met grandeur and send you to bed without pictures of dinner (find more over at Aaron S. Hitchcock Presents):