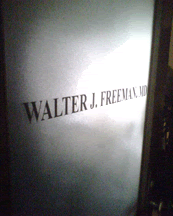 AFTER A DELICIOUS brunch yesterday, I was wandering over to Elissa
and Kevin's place
to watch a movie when I got a phone call just as we were stepping into Brooklyn Label to grab some hot cocoa. I tell you this because it explains how the hell I ended up back in

Poughkeepsie

, though it only starts to explain why I ate a bag of pretzels and a couple

Nutri

-Grain bars for dinner last night.
As I'm sure you all remember, a few days ago we discussed a lobotomy reenactment. Well, that was happening today on the second floor of the Church Building in

Poughkeepsie

and, as you may or may not know, the equipment needed to stage a lobotomy reenactment is very, very heavy. Thus, the brute force and sheer strength that my muscles provide* was needed upstate, and yesterday's phone call was to request just this service. In a flash, I was packed and headed to Park Slope to meet the director and set off up I-87. We arrived late. The only option for food was the hotel lobby where I found pretzels and cereal bars, ate them, and went to sleep dreaming of tomorrow and the promise of better food.


In my previous

Poughkeepsie

post, I did declare my intention to dine at the Apple Pie Bakery Cafe if was ever up this way again. The Apple Pie Bakery Cafe, however, lied to us about being open on the Monday after Easter, and so the Market on Main came to the plate and hit us a home run with its wide array of Boar's Head meats and proudly-brewed Starbucks coffee. I'll have the espresso blend, please!
Since the lobotomy ran a little late the Market also provided me a sandwich for the road home--a sandwich, Vitamin Water and one of Noni's world-famous chocolate

biscotti

. It's not Famous Amos, but it'll do.
MIKE EATS NEXT TIME:
I'm not going to tempt the gods.
* When used in conjunction with two or three other strong individuals.