IT SEEMS ODD that a blog about consuming food written by a blogger based in Brooklyn is only now, after almost three months of blogging, getting around to the one food for which Kings County is world-famous: pizza! Though I suppose
stranger things have happened
.
First, as you may have noticed from the now-broken chain of
un
-commented upon daily Menu posts below, I've been rather absent as of late. This was partly due to unispiring
cuisine, but also on account of some early, early call times after which I returned home exhausted. Yesterday, for example, began at 5 a.m. The quantity of coffee I drank would have been more efficiently
administered intravenously.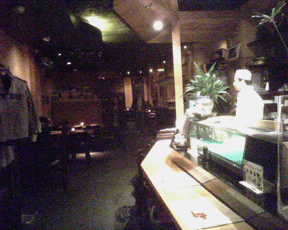 Last week's trip to

Migita

Sushi: as memorable to us as
axing eight federal prosecutors was to our Attorney General
I offer this not as an irrelevant tangent. It helps explain why I was lazy enough to order a pizza last night. I say "lazy" not because I consider pizza an inferior, couch-potato food, but because

Greenpoint

is a historically Polish neighborhood and pizza is not
a prized Polish tradition
. So, if you're going to channel fat and grease into your body via pizza, you might as well get a top-notch pie.
Now, while

Williamsburg

has some quite authentic Italian options,

Greenpoint

is lacking. What

Greenpoint

has is

Baldo's

(way over on Nassau--and suspect to boot), Nassau Pizzeria (further up, but I'll grant them the reputation of having a decent slice), and L.A's (on Manhattan Avenue just south of

Gree
npoint

Avenue itself.) Of the trio, L.A. is your best bet. For $10 (takeout only) on Monday and Tuesday, a large regular pie ain't a bad way to go if you're trying to keep it cheep and you don't feel like trying too hard.
L.A.'s pizza isn't quite as good as it's predictable menu of Italian fare, and it's hardly fine dining, but when it comes to quick, enjoyable Italian food in

Greenpoint

, you'd do well to look no further. If it's fine dining you want--head over to La

Piazzetta

on Graham.
Some people
will eat pizza regardless of the time, place, or impending heart failure. I don't normally consider myself part of that group. But after eating a few slices last night I was reminded of how even an average slice in Brooklyn is better than twenty slices anywhere else. Except, perhaps, Patsy

Grimaldi's

. Viva la pizza!