OLD BANANAS ARE good for something. That is, other than
looking disgusting and filling
your kitchen with the sweet, rotting scent of their collective demise. Old bananas are indeed good for something else: banana bread.
Surprisingly

easy to make (assuming you have a electric hand mixer and a number of mixing bowls), this dense and delicious breakfast favorite requires:
1/2 c. soft margarine
1 c. sugar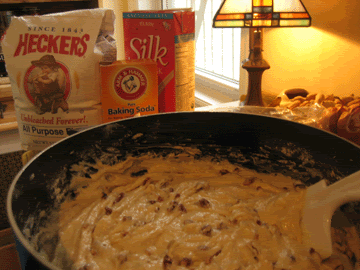 2 eggs
1 1/3 c. mashed ripe bananas
(3-4 medium-sized)
1 tsp. milk
1 tsp. vanilla
2 c. all-purpose flour
1 tsp. baking soda
1/4 tsp. salt
1/2 c. chopped nuts
Cream butter and sugar in large bowl until light and fluffy. Beat in eggs. In another bowl, mix together mashed bananas, milk, and vanilla. In yet another bowl, mix flour, salt, and baking soda. Alternating, add mixtures to large bowl. Stir in nuts (optional). Turn into greased 9x5x3 inch pan and bake in 350-degree oven for one hour plus ten minutes. Cool 10 minutes in pan. Turn out of pan and cool completely.
I wish I had better advice for how to tell when your bread is done, but I suppose you can tell from the pictures what it ought to look like. Mine were actually a little overdone on the bottoms, but I had notched the temp up to 375 on account of doubling the recipe (which, by the way, requires an awfully large bowl). One note: do make sure you're using a properly-

sized

pan. If it's too shallow you run the risk of over-baking.
Did we really plan to eat two loaves of the stuff? No. The second loaf will be carried in a suitcase to Connecticut. That story, coming soon.