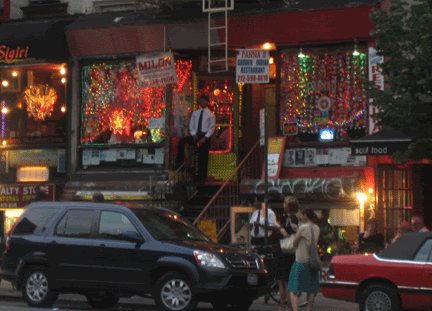 Milon

93 First Avenue

New York, NY 10003

(212) 228-4896


THE THRILLING FINISH to the first ever (and God willing last ever) three-part posting in Mike Eats Food! history (and, oh, what a five month history it's been), finishes with a long-awaited return to an old East Village favorite: Milon, a.k.a. "top-left." If you don't recognize it by name, you'll certainly recognize it from about five blocks away as the place with ten thousand brightly glowing strands of red chili pepper lights, top left.


It is a minor miracle that you never wait more than five, maybe ten minutes for a table at Milon. The place is less than ten feet wide, perhaps forty feet deep, and always crowded. Remarkably, on a Saturday night, we sat right down. Our server, one of a handful who are seemingly always working, was happy to uncork the bottle of wine we brought with us (Milon is carry-in alcohol only), and we went about examining the exhausting list of Indian fare.



We ordered several dishes to share--kofta malai, chana saag, veggie and chicken korma, samosas, and poori. For the three of us, the bill was $28. I mention the tab before discussing the food because while the food is perfectly decent it's the price that makes Milon worth checking out. There are few places in this city you can feed three people to full for less than $30. Bonus: immersing yourself in Milon's stupefyingly bright decor is a memorable experience all its own.


Afterward, we caught a bus up First Ave to meet Mint at Kips Bay and catch a 10:30 showing of "Knocked Up." The film strays very little from the plot you expect, moving through all the expected conversations about unexpected pregnancy and married life, and rarely succumbs to any distractions. Yet, it's funny. There are even a few moments of poignancy.
And then, the plot grinds to a halt when the actual birth should be speeding it up, and a feel-good ending betrays the ultimately romantic focus of its comedy. Whatever. Is Judd Apatow ever going to try a new casting agency? His next film sure doesn't.


MIKE EATS NEXT TIME:
Yes, and always top-left.