Champion Coffee
1108 Manhattan Avenue
(b/t Clay St. & Dupont St.)
Brooklyn, NY 11222
(718) 383-5195


Planet Thailand

133 N. 7th Street

Brooklyn, NY 11211
(718) 599-5758
Fresh out of grounds around the apartment, I lasted until about noon before caving in to my caffeine cravings and stomping up Manhattan Ave to
Champion Coffee
. Looking only for a quick fix, I ordered to go a 16 oz. cafe americano. As I watched the big, beautiful Faema machine pumping out espresso, I almost missed the guy turning to grab a cup to pour it in--a cup noticeably smaller (by half!) than the one which I was given on my last visit!
Now, I'm not up on my liquid measures. I can't approximate 16 fluid ounces. from 12 ounces, or which would be closer, in size or weight, to 1 cup of anything. So, I said nothing, took my coffee and headed home. But curiosity got the best of me:
According to Google, 1 cup equals 8 fluid ounces. After home-measurement analysis (and my margin of error is plus or minus 100%), my cup had in it 10 fl. oz. of coffee at best, probably less. This is quite disappointing. I don't imagine that Champion is deliberately siphoning ounces of delicious coffee away from its consumers, but I do question how it could advertise (and willingly charge) a full $2.00 for what is clearly half the expected amount. I will be sure to raise this question on my next visit. Answers in a future post, I promise.
On, to Thailand!
Mint had dinner at Planet Thailand a week or so ago. Being her first visit, she returned excited by the prices and variety of its Thai menu, and so we agreed to stop by again soon so she could try out something else. Myself, having been on three or four occasions and always opting for the excellent Thai menu too, I decided to take the opportunity to try out Thailand's Japanese offerings. I have to say--I was disappointed.
The sake I ordered, which was listed as "very dry," turned out to be quite sweet without any
bite whatsoever and tasted, dare I
say, watered down; the miso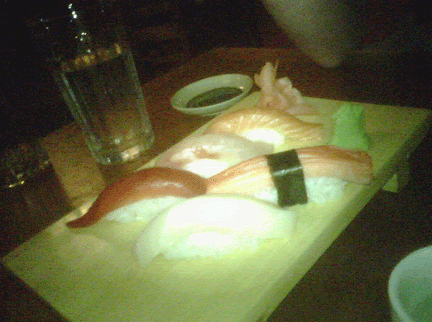 soup also had a muted flavor neither salty nor savory; and our sushi appetizer (at $7.95, a dollar more expensive than Mint's basil tofu entree) was satisfying though not spectacular. The unagi don, eel over rice, a favorite of mine, was a little too fishy and the sauce not nearly as rich as the one served at Sapporo Haru.
Dessert was the highlight. A special listed among the daily offerings had caught our eyes: black sticky rice with mango and cappuccino ice cream. We asked to exchange the cappuccino ice cream for a mango sorbet we had noticed elsewhere on the menu, and our server was happy to oblige. The black sticky rice (our guess is tapioca pearls used for flavor and color) was rich and warm, crunchy with grains of toasted rice. It paired well with the mango sorbet and fresh-cut mangoes perched on top.
I imagine the cappuccino ice cream would have also been a very good match for the black sticky rice. And so it all comes full circle to coffee.



MIKE EATS NEXT TIME:

Champion, with questions; Planet Thailand, for Thai.