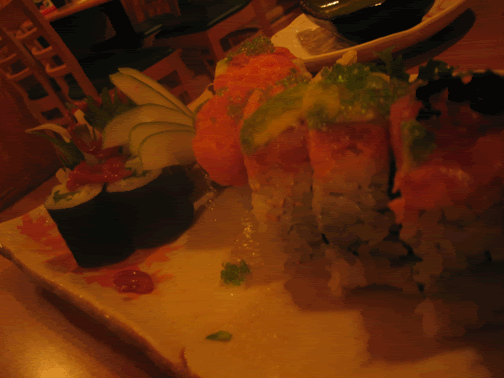 Sapporo Haru


622 Manhattan Avenue
Brooklyn, NY 11222
(718) 389-9697

THREE REASONS WHY this topic is worth revisiting:

First, the original MEF! post on Sapporo was anything but comprehensive.

Second, there is now an over-abundance of sushi places in Greenpoint, all within a few blocks of each other, which only furthers the debate about where to purchase one's raw fish around these parts. Sapporo Haru and Wasabi were both excellent choices when they were the only games in town. Ah, but for progress. A couple of upstarts makes the decision tougher, the debate worth clarifying.

Third, in light of a recent conversation with Kevin (note: the two of us are no masters of sushi knowledge, unless Kevin is keeping something from me), expectations have been raised. It was pointed out to me that perhaps the test of good maki is whether or not each of the roll's individual pieces is distinguishable in texture, flavor, etc. An excellent point. Kevin finds that Wasabi's chefs do a better job of accomplishing this feat than do Sapporo's.


Roxie, on a recent trip; ume shiso roll as it should be, top
I have no desire to eat at all of the sushi newcomers and mainstays in Greenpoint to determine which is tops. That's expensive, people. I've been going to Sapporo for a little over three years now and I have no plans to stop. I enjoy the menu, I find the fish to be fresh, the service to be warm (on occasion hilariously erratic), and the prices to be reasonable. The green tea has the flavor of toasted rice, and the miso is exceptionally sweet without being salty. The waitress calls me "sweetie." That's enough for me.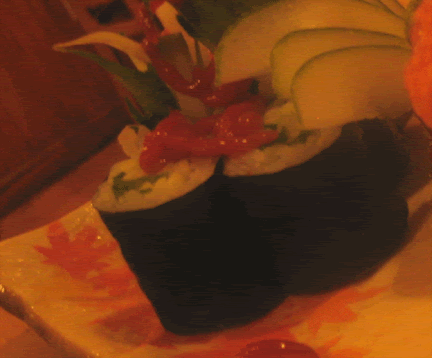 That said, my ume shiso roll arrived with pickled
plum paste rather curiously plopped atop my roll rather than inside it (see detail, left). I've never had that happen before. I can't explain it. My Brooklyn roll, which involves fried mint leaves and spicy tuna on the outside, arrived as Kevin might have predicted--a muddle of tastes (however delicious) with only the mint leaves recognizable by their crunch. Score one for Kevin.

It's enough to make me want to try Wasabi, just to see how the two stand up. But once, and only once!



MIKE EATS NEXT TIME:

Perhaps, just perhaps, at Wasabi.