PLEASE FORGIVE MY lateness in posting almost a week of entries.

That apology, of course, is offered by "Future Mike" who, after almost a week-and-a-half of work-induced absence, is reliving his past by pretending it's the present for the sake of daily-blogging appearances. Is there proper grammatical tense for that? No version of Mike (now, in the third person) knows for sure.

Today (wink-wink), I met up with Marc Choi of "racist flakes" fame to check out the ever-emotional Ra Ra Riot at the South Street Seaport's summer Seaport Music Festival, part of the River to River series, which along with Street Fair is a true hallmark of summer in New York City. Opening was another Syracuse indie legend in his own right, the pizza-loving Scott Wiener, a la Bikini Carwash Company. A show not to be missed.

What is missed, however, is any hope of decent food down where Fulton Street meets the East River. There are a few sit-down spots along ye olde cobblestone of the wannabe-fashionable Seaport district, but out on Pier 17 you would think you had died and gone to the suburbs. A full-fledged mall, your food options consist of a mall food court, a handful of mall-based, sit-down restaurants, and all options anchored by Uno's Pizzeria. After examining all of the Chinese take-out options (Marc lamenting the absence of a China Express), we settled on Subway and quickly retreated outdoors to catch Bikini Carwash.

There's something I'd like to talk about here aside from how disgusting the Veggie Delite sandwich is: Subway's ad campaign for "Super Stuffed" subs, which apparently is only running in the tri-state area where the uber-sandwiches are being sold. In this campaign, Subway trades in its "Eat fresh!" slogan for something a little more direct, specifically, "Eat it--any way you can." Somewhere, Jared is smacking himself in the face. I cannot at present find a video of this this ad online, but I can offer a .jpg of proof:



My only guess is that Subway, after a half-decade of telling America to "Eat fresh!," has opted to reverse course. If America wants to get fatter every year, dammit, America's #1 Franchise
wants to be doing the fattening. Why only test serve the product in New York? Well, I suppose if the Super Stuffed sub can make it here, it can make it anywhere. As if America hasn't already weighed in on its love of fast food and meat.


Which is a good as transition as any to the vegetarian's selection this evening: Subway's Veggie Delite. I was fairly optimistic, actually, piling the peppers, tomatoes, cucumbers and such atop my whole wheat hero that my meal might not be half-bad. Then, my sandwich Picasso pulled two great, brown slabs out of the microwave and literally shoved them with two hands into my sandwich. Viola!, a Veggie Delite is born:



I can only admit to eating about six or seven of my twelve-inches of sandwich. Really, that slab of a misguided attempt to adapt the veggie burger the narrower confines of a hero was like a brick wall in my stomach. And I mean that in the politest possible way.

I'll leave you with a few terrible cellphone pictures of the show to wash that awful taste out of your eyes: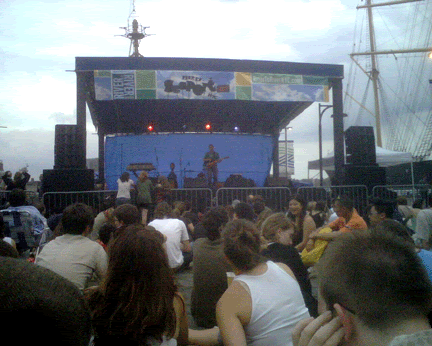 MIKE EATS NEXT TIME:

Good Lord, no, he most certainly does not.