Relish


225 Wythe Avenue
Brooklyn, NY 11211
(718) 963-4546
www.relish.com



Siggy's Good Food


76 Henry Street
Brooklyn, NY 11201
(718) 237-3199


HARD TO BELIEVE my first trip to Relish in quite some time would be overshadowed by a hole-in-the-wall organic kitchen in downtown Brooklyn, but that's the truth, people. And that's not to say the always-impeccable Relish wasn't up to expectations--Siggy's just flat out surprised us.
The Relish trip was decided-upon quite by accident. Jane, visiting for a birthday weekend, had only two simple requests for brunch: to sit outside and order off a menu that didn't bestow ridiculous names on its food. Is there a better Williamsburg option meeting that pair of demands? I think not. So, much to the chagrin of Mint who was working on a her usual day off, Sunday, it was off to the depths of Wythe Avenue.


The beauty of Relish is always its menu of simple, delicious fare presented without pretense in neighborhood that quite literally thrives on pretense. My huevos rancheros were excellently cooked and the tortillas below still crunchy, somehow entirely unaffected by the pile of rice and beans piled upon them; the side of veggie sausage, while tasty, could certainly have been of larger quantity. Meanwhile, Jane was much pleased with her chicken sandwich. Best of all, though, was the towering Bloody Mary I received from the bar, thick, just a touch too spicy, and refreshingly cold on a warm afternoon.
After a visit to see Steph tending bar up at Dive 75 on a suspiciously slow Sunday, and after a game of Scrabble, quite a few bowls of chocolate candy, and a remarkable comeback by the US to dispatch Mexico 2-1 and win the Gold Cup, Jane set off across Central Park to find her way back to Murray Hill, while I set off to take the 2 train back into Brooklyn.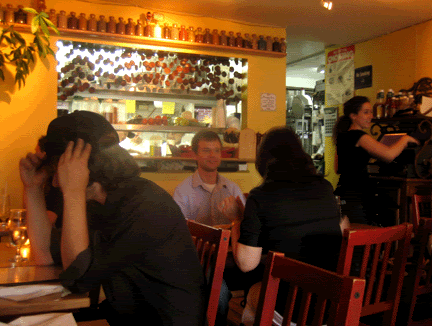 Meeting Mint off Montague Street in Brooklyn Heights, we surveyed our usual options and decided, instead, to set off down Henry Street in search of something different. We came across Siggy's Good Food and were coxed inside by the adorable gray cat standing sentinel outside in spite of our apprehensions about Siggy's cozy, non-air conditioned interior.


Siggy's was refreshing nonetheless, a bottle of beer and fresh ginger-mint lemonade for Mint
and I saw to that. The food, best of all, was not your typical vegan/vegetarian variety, as we had feared, focusing on organic offerings prepared with infinitely more touch and experience than many like-minded establishments. Mint's tofu, broccoli and soba noodles in Szechuan sauce, an overdone staple at many veggie friendly joints, was remarkably light, with all the flavor of soy sauce and spices without becoming too salty or overpowering the tofu, which was cooked very, very well.
Spotting macaroni and cheese on the menu I could do little else but order it, and so also chose a lentil garlic soup to start. The soup was wonderful, no real surprises, but the macaroni and cheese had to be the best I've ordered out anywhere in the City. Whole grain spelt pasta was an excellent, hearty choice paired with the tangy, organic blend of cheeses, and together the duo was gooey, sticky, satisfying, or try this: everything you look for in comfort food. Though, while at $6.95 (technically, it's a starter dish) the mac n' cheese is a pretty great value, I'm fairly sure its nutritionally void. You win some, you lose some.
So, sorry, Relish, but you got shown up by some creative kids downtown. It's not that the food there was better, it was just that much more unexpected. When the stellar becomes status quo, surprises are just that much more surprising. Anyways, Mint is anxious for her first visit to your shimmery dining car quarters, so, no worries, you'll get your chance to shine for MEF! some evening soon. You just better hope we don't first go to Siggy's for brunch.



MIKE EATS NEXT TIME:

Absolutely, on both counts.