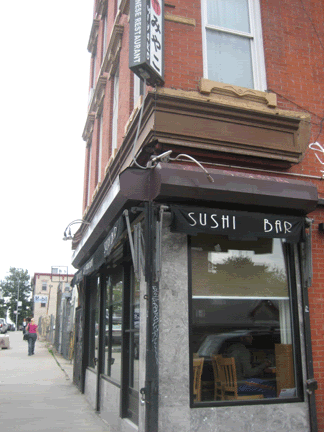 Miyako

143 Berry Street
Brooklyn, NY 11211
(718) 486-0837


THIS EXPERIMENT IS beginning to take on a life of its own. In the beginning, I held absolutely zero intentions for where Mike Eats Food! was headed (aside from maintaining its admittedly self-indulgent premise), and to date I've only paused on a couple of occasions to reflect on perks or bouts of nostalgia thus associated with its expanding niche in my life. Hindsight is twenty-twenty, indeed.

If I had to do it again, I might have reflected a little longer on the commitment
to photograph and write about every meal
, you know, before agreeing with myself to do it. I certainly think myself was a little hasty in talking myself into this mess but as I told Aaron this past weekend after taking five pictures of a bowl of pad thai, "I've made my bed, and now I have to lay in it." Aaron remarked, rather sarcastically, that I had "found my calling." I think that might be a bit strong, but his point is pretty clear: for better or, mostly, I assume, for worse, the line between me and this blog is growing ever-thinner.

I'm not sure if I'm happy about that. But that's where I'm at. This was evidenced once again this evening as Becky and I were brainstorming to find a place for dinner before visiting Roxie, who was guest bar-keeping at Soft Spot. Roxie added to the conversation by email:

"Mikey is the one with the FOOD BLOG, so I'd let him take you somewhere. I do highly recommend Miyako, which I'm fairly certain Mikey doesn't know about. I could be wrong though...It's happened once before."
Thinking about it, I actually can't come up with time that Roxie has been wrong, and she wasn't wrong tonight either. Miyako, and it's equal parts Korean and Japanese menu, turned out to be a great choice. Becky has been raving about Korean food since her relatively recent trip to Seoul, and I still hadn't tried it myself. I don't believe Mint had either. So, ignoring Miyako's Japanese half (and Roxie's actual recommendation of sushi), Becky, Mint and I sat down for kim chee.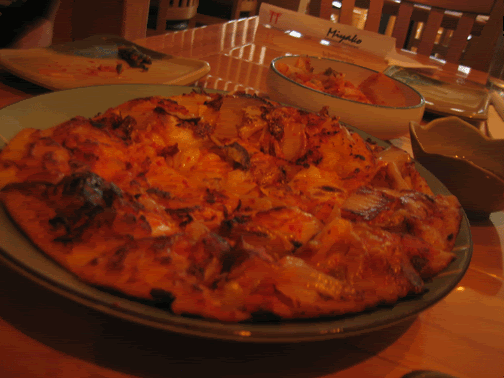 We ordered our kim chee, a.k.a. spicy cabbage, served up both cold and cooked in a soft
pancake-type dish, pah jun. While the red pepper sauce on the kim chee could certainly have been spicier, I cannot imagine a more enjoyable start to the meal than the pah jun. I could have eaten the stuff all night, a point I repeatedly made clear to the amusement (and/or annoyance) of Becky and Mint.

Mint ordered for an entree ginger tofu; Becky and I ordered variations of tofu bi bim bap, hers served warm in a large bowl, mine in a cast iron pot, a dish called dol sut. I imagine the difference in taste was negligible, though the egg that arrived fried atop Becky's dish was poached atop mine. We poured our sesame oil and hot sauce over the neatly-arranged tofu, mushrooms, carrots, cabbage, and sprouts and stirred the concoction together, digging up from the bottom of the dish the rice and noodles, mine slightly burnt and crispy as they should be from the sizzling pot. (I think Mint kind of wanted to have fun stirring her dinner too, but ginger tofu is sadly not something you want to smash up with a spoon.)


Left to right: Bi bim bap; Food, all stirred up; Sushi? What sushi?

I can see myself really enjoying bi bim bap in the middle of winter, hunched over its steaming pile of deliciously dislodged ingredients and hiding from the cold. That said, I can see myself really enjoying bi bim bop anytime. Filling and nourishing, it's a fantastically unceremonious meal--how formal can you be when mashing up your dinner?--and it makes for a friendly table.


From Miyako, we headed up to Soft Spot, a bar Roxie is fond of frequenting. Tonight, however, Roxie was on the other of the bar serving up 2-for-1 happy hour specials (7 to 8 p.m.) as a guest bartender. The guest-tending spot is filled every Wednesday by a different invitee, as the Spot Spot is big on nightly draws (and tasteful nudity, left). For example, on Tuesday the happy hour special is extended all night, on Saturday and Sunday a bloody mary special is extended all weekend, and on your birthday you drink for free (yes, ID required). You can see why Roxie digs this place. And Roxie is never wrong.
MIKE EATS NEXT TIME:
He wants to eat there again already. Too soon?



Thanks to Jeanie for pointing out a few omissions in my description of dol sut bi bim bap.