Cubana

Cafe
272 Smith Street
Brooklyn, NY 11231
(718) 858-3980
www.cubanacafechulo.com

I OWE MARISA, like, a hundred dinners. Once upon a time, her brother's then-girlfriend helped me get an internship (and a paid one, at that!) at Hungry Man Productions. It was my first production industry gig, and it was a damn good one. Not a year later, after we had both graduated from Syracuse, Marisa helped me in the door at the College Music Journal, a.k.a.

CMJ

, where I stuck around for a few months working for the Music Marathon 2004. Another good gig, and a fun one to boot.

That same fall, I

received

a phone call from The History Channel. A resume of mine I had submitted to them months

earlier

had finally

fallen

across the desk of a fellow named Matt Hollywood, who recognized on it a web-magazine I had run because he once read an article on that site written by a former high school

bandmate

: Marisa. Dumbfounded, I took that job too. Fast-forward a little over two years, and by chance I'm freelancing at Country Living, which happens to be a Hearst Corporation magazine; Marisa works at Seventeen, which is also a Hearst publication. One guess where this story is headed.

Well, as it turns out, Marisa is leaving Hearst for a new job at Prevention, but in one final act of friendship
lands me an interview with the head of Hearst Digital, who passes me along to the head of Hearst's video-photography department, where I will now, in all likelihood, spend some time working. This is, yes, the long version of the "Why I Owe Marisa One Hundred Dinners" story, but in all fairness to Marisa, I could not have made it shorter.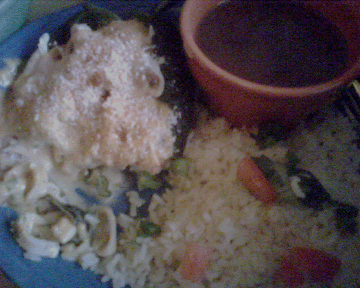 And so we arrive at

Cubana

Cafe (one dinner down, only ninety-nine to go) in Carrol
Gardens, or Cobble Hill, or whatever you want to call it. For a Friday evening, the place was only lightly packed, and we were able to quickly grab a seat. The menu was as much Mexican as Cuban (a point I later found corroborated in a NY Times writeup), but simple and delicious, delivered almost as fast as our drinks. My

poblano

chile

stuffed with

shrimp

and calamari ($9) was sweet, spicy, and filling, while Marisa had only good things to say about her '

buena

vista

pollo

,' a pounded chicken breast with mango salsa ($8). Our order of boiled

yuca

($3) was soft and garlicky, plenty for us both. Mix in a margarita and a

mojito

, and we were happily satisfied.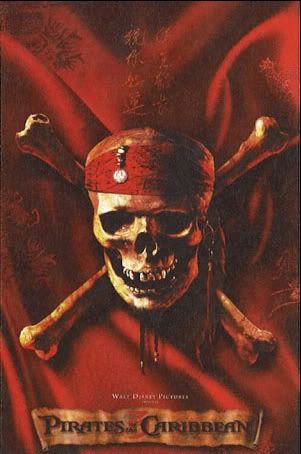 We then left to meet up with Mint at the Cobble

Hill

Cinemas, one block west on Court Street, for "Pirates of the

Caribbean

3: At World's End." This is recommended if you a) only want to pay $9 to see the film, and b) don't want to watch it with 300 screaming yahoos. Now, after a miserable experience at the United Artists Court Street theater in downtown Brooklyn (added to the boycott list), I thought I would be happy about this latter point. No, Mint was right: people

should

be acting like yahoos during Pirates. It's more fun.

The film was excellent anyway. Really, it was. Certainly more of a coherent film than the second Pirates installment, "Dead Man's Chest," though not as wholly spectacular as the series' debut, "Curse of the Black Pearl." One the whole, however, the Pirates trilogy remains the most original bunch of blockbusters in the last decade: unlike Harry Potter, Lord of the Rings, and

Spiderman

, note that Pirates had absolutely zero

pre

-existing plot. Yes, there is seafaring folklore to consider, but at the end of the day that's the stuff of setting the world the film exists in, and that backdrop was more than abundantly provided for in each of the other big film brands I mentioned.

And that's why Pirates and Marisa have a special place in my heart. Together.

Aaargh

.



MIKE EATS NEXT TIME:

At the very least he'll have a mojito.