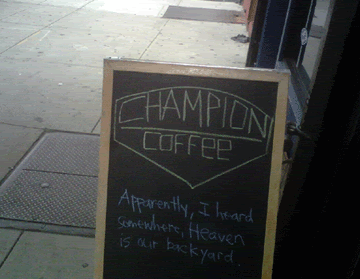 Champion Coffee
1108 Manhattan Avenue
(b/t Clay St. & Dupont St.)
Brooklyn, NY 11222
(718) 383-5195

I WAS TIPPED off last weekend that a new coffee joint had opened recently in Greenpoint. Not Starbucks, thank you. It's Champion Coffee now weighing in for what has emerged as quite the heavyweight rumble, challenging for java supremacy the aforementioned national chain, critically-acclaimed Cafe Grumpy, and now-veteran Ashbox. It's remarkable, really, with chic Williamsburg lurking nextdoor that the best cup o' joe in North Brooklyn mind wind up on Manhattan Ave. Are good grinds the final harbinger of gentrification in Greenpoint? That's going to have to be a conversation for another day.



Walking into Champion for the second time in two days, I still can't ignore the big, beautiful vintage Faema espresso machine that stands guard over the counter, indeed the entire establishment. You feel as if you could just ignore the chalkboard of offerings and accept in kind anything that gorgeous machine turns out. Having come to sit and read for a bit, I settled for a basic (and probably boring, considering the options) cafe americano. I chose a bagel with cream cheese and tomato from the menu and left the more tempting options for another visit.

Still, that simple cup of coffee was perhaps the best I've had in Greenpoint. That pains me to admit, since I've long claimed Ashbox owns that throne. I'll have to return another day, though, and see if Champion's grander choices--lattes and espressos--match the masterpieces that Cafe Grumpy turns out. I have no plans to visit Starbucks, though perhaps in all fairness we'll have to see how its measures up.



One last point: on Friday morning I grabbed a 16 oz. cafe americano to go. It cost me $2. Not a cheap cup of coffee, but a price I'm willing to accept outside of Midtown given the quality. This morning, I ordered a cup of the same. It also cost me $2, but I'm willing to bet the lovely white mug it arrived in was not 16 oz. Given the quality, I expected my second cup would not be a free refill, but I certainly wasn't expecting to pay the full $2. This is a dilemma I expect Champion to solve. I'm willing to pay $2 to carry home 16 oz. of coffee, but I'm not willing to pay $4 to enjoy that same 16 oz. divided between two 8 oz. cups.



MIKE EATS NEXT TIME:

Certainly, but only to go.