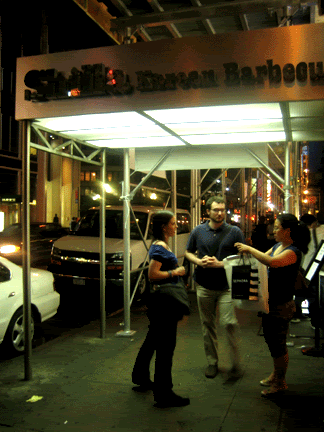 Shilla Korean Barbecue House
37 W. 32nd Street
New York, NY 10001
(212) 967-1880
www.shillanyc.com
HAVING NO PLANS is frequently the best plan. At first, Jeanie just wanted to perhaps grab lunch. Then, both of us running late with our errands, we thought we might just meet up for dinner. I eventually proposed a Korean spot in Williamsburg; Jeanie countered with Koreatown. I agreed, happily, as Mint and Jeff were now dragged into the plot, a time was chosen, and the restaurant left to be determined as Jeanie saw fit. As I climbed up out of the subway onto Sixth Avenue my cell phone buzzed: Shilla on 32nd St. And so it was.
Two flights of stairs later, Mint and I found Jeanie and Jeff tucked into a third-floor corner overlooking 32nd St. and the lights of Koreatown; construction work outside looks to promise a balcony that might sit over the district. Jeanie had already scoured the menu and made a few selections: wild mushrooms and barbecue pork belly to be grilled at the table, a plate of clear rice noodles with beef and vegetables, and a scallion pancake with seafood. Mint and I acquiesced to her choices, quietly wondering if it would be enough food for the four of us. Then came the little plates.


When the waiters had finished, it quite looked like a tapas bar had exploded on our table. Little white dish after little white dish displayed a selection of kim chee, seaweed, bean sprouts, crispy squid, barbecue squid, stuffed clams, marinated radish, raw garlic, and spicy cucumbers. There was probably more. I lost track. We ate all of it. The grill was fired up and the mushrooms thrown on.
We ate those, still smoking from the grill, and heaped on the pork belly and onions. We passed around the plate of noodles and forked over slice after slice of Korean pancake stuffed with thick cuts of squid and whole green onions. When the pork belly was crispy, that too was eaten right off the grill, though Jeff was happy to wrap his in lettuce with rice. I'm not sure I've ever eaten so much food so quickly and so completely. Stuffed, we slowed, but picked at whatever was left on the grill and in our multitude of little white dishes until everything was gone. Satisfied? You bet.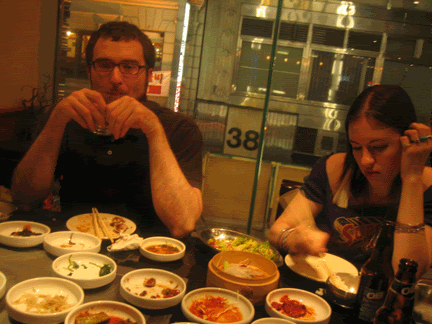 Mint and Jeff, in the aftermath of Korean barbecue
The outing wasn't exactly keeping with a strict budget, I'll admit, but at $27 per person, including our tip, I can certainly say I've spent far more of far less satisfying food and drink, especially with a group of people when the bill can run amok. It's not an outing you pull off every week, but in the spirit of celebration, why the hell not? And what were we celebrating tonight?
Having no plans. Cheers!
MIKE EATS NEXT TIME:

Yeah, and he asked Jeanie to get the recipe for Korean scallion pancakes from her mom. You can bet that one's coming soon. Unless Jeanie's mom hits MEF! with a cease and desist order on publishing the family recipe. We shall see...